How To Host The Ultimate 'Australian Survivor' Viewing Party
Will you be a Champion or a Contender when it comes to hosting an 'Australian Survivor' premiere party?
With the start date of the new 'Australian Survivor' series just around the corner, we thought we'd give you a few party tips so you can stock your cupboards and begin decorating your lounge rooms to watch Tribal Council in style this season.
While life as an 'Australian Survivor' contestant is anything but luxurious, what with all the rice rations and lack of protection from the elements -- there's no reason you can't enjoy a decadent feast as you watch to find out who will become this year's Sole Survivor.
READ MORE: Australian Survivor 2019: Janine Allis Wanted 'Australian Survivor' To Scare Her
We've put together some ideas for 'Survivor' themed cocktails, menu items and games so all your friends will be raising their hands in excitement when you announce you'll be hosting a bash to 'Outwit, Outplay and Outlast' everyone else's.
Some Light Refreshments To Begin
While cocktails are unheard of on 'Australian Survivor' (this isn't 'Bachelor in Paradise'), we've assembled some beverages that will go very nicely indeed as you watch the show under the comfort of your snuggie.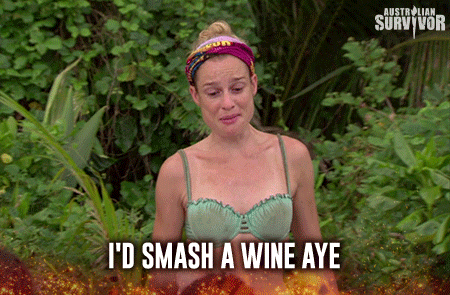 The Looking For Ali-Brandy Alexander
Named in honour of Contender Pia Miranda's most iconic role, this elegant drink calls for brandy (naturally), some creme de cacao, heavy cream and nutmeg. The NYT calls it "retro but really timeless" so you can pour your guests a frothy glass as you cheer on Pia.
READ MORE: Please Help Me: I Started Watching 'Survivor' Last Year And I Cannot Stop
The Simon Black Russian
A drink to enjoy while watching AFL legend Simon Black figuring out whether his football skills will help him at all on the 'Survivor' playing field. A Black Russian is a sickly sweet combo of Vodka, Kahlua and Coke and you can find the recipe here.
Piña Colada
No puns here, just a tribute to some of the ingredients that our 'Survivor' contenders and champions actually have access to, although they sadly won't have the time or the booze to be sipping on piña coladas as they plot their way to the top of the game. This recipe calls for pineapples, coconut cream, rum, sugar and ice. You can find Jamie Oliver's recipe here.
A Banquet Fit For A Hungry 'Survivor' Tribe
Nachos!
We know you probably don't want to relive this memory of Benji inhaling nachos from last season but it reminded us that the dish makes for an excellent party snack -- but please make sure you share with your guests.
You can try out Matt Preston's excellent vegetable nachos and become the 'MasterChef' of your 'Survivor' party.
Crispy Coconut Prawns
Rice is generally the main food source for our hungry Survivors but they also have access to coconuts -- as long as they know how to crack those suckers open. This recipe by Miguel Maestre calls for shredded coconut which you can just buy in a shop (luxury!) and pair with prawns, garlic, lime leaves and sweet chilli sauce.
READ MORE: Which TV Auction Is More Brutal? 'MasterChef' Or 'Australian Survivor'?
Challenge Your Friends And Decorate Your House
It's no fun to watch 'Survivor' without rooting for your favourite -- in the hopes that you can brag to everyone that you picked the winner right from the start.
The good folks at 10 Play have created an ~entire survival kit~ that includes themed decorations as well as prediction cards. So you can take advantage of the office printer to make things official when you decide on your final three.
The Survival Kit also includes Champions and Contenders buffs and some foliage to print out and decorate your house with but why not go the whole hog and fill your house with indoor plants!
Can you tell we're a little bit excited?
Main Photo: Network 10.