The Most Decadent Chocolate Recipes To Hit 'MasterChef'
Whether it's in form of a cake, a mousse or a luxurious croissant, there's no shortage of love for chocolate on 'MasterChef'.
It's an ingredient that we'll never tire of and it doesn't matter if it's milk, dark or white chocolate, we'll happily scoff anything with so much of a hint of cocoa bean.
We had a dig through the 'MasterChef' recipe archives and came up with the most luxuriously chocolatey dishes that you could actually make at home this winter.
READ MORE: 'MasterChef: Larissa Told Us Derek Was 'So Bummed' When He Found Out About WA Week
Chocolate And Coffee Semifreddo
Season 10 dessert queen Jess Liemantara created this perfectly decadent chocolate and coffee semifreddo with a coffee crumb, crystallised coffee praline and coffee chantilly cream. Find the recipe here.
Matt Preston's Self-Saucing Chocolate Pudding
This is the perfect recipe if you're in the mood for chocolate but only have a packet of cocoa powder on hand. This self-saucing pudding is seriously indulgent and perfect for dessert on a cold winter's night. Find Matt's recipe here.
READ MORE: Why Every 'MasterChef' Challenge Should Be On A Train
Chocolate Decadence With Miso
Karmen Lu from 'MasterChef' Season 8 was so good at creating sweet treats on the show, she opened her own dessert bar in Perth, Measure. One of her most tantalising chocolate recipes was this combo of chocolate gelato, tempered chocolate, white chocolate mousse and an umami-packed miso caramel. Find Karen's recipe here.
READ MORE: A Reminder Of Everyone Who's Won An Immunity Pin On 'MasterChef' This Season
Donna Hay's Four Tier Layer Cake
Way back in Season 2, baking expert Donna Hay stopped by to show some of our fave contestants (Adam Liaw! Callum Han! Marion Grasby!) how to create the kind of cake that's particularly impressive at birthday parties, but you could definitely just make for no reason whatsoever and scoff the entire thing yourself. You can watch Donna's video and find the recipe here.
Matt Preston's Classic Chocolate Brownie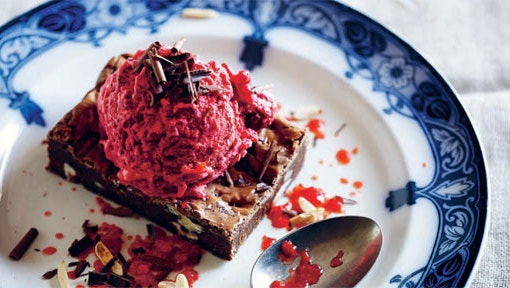 We've included another one from Matt Preston because his take on the classic chocolate brownie is delicious AND foolproof. This recipe includes good quality dark chocolate and optional extras like white chocolate, walnuts and whole almonds. Find the recipe here.
READ MORE: READ MORE: 'MasterChef': Corn, Corn And More Corn: Larissa Is A Tactical Genius
Black Forest Lune Croissant
Although Kate Reid's Black Forest croissant nearly broke our 2019 contestants over the two-day challenge, you can definitely cheat a little when attempting it at home.
You can start with four one-day old croissants and then work on the chocolate mousse, cherry jam, Maraschino syrup, chocolate frangipane and tempered chocolate shards. Easy! Find the Lune recipe here.
MasterChef Australia
airs Sunday to Thursday nights at 7.30pm. Only On 10 And WIN Network. Missed an episode? Catch up on
10 Play
or
10 All Access
!