Gogglebox's Wayne And Tom Are Sharing Cocktail Recipes
The nation's favourite boozehounds are back on TV...
All your Gogglebox Australia favourites are back this week and that in itself is a good excuse to have a drink -- though if you're Wayne and Tom of course, you don't need any excuse at all!
In fact the pair have just released their first book, Cocktales On The Couch with Wayne and Tom, a collection of their favourite recipes (three of which are below). It's completely genius really, given how much of their screen time is spent sipping from glasses, right -- and while Wayne seems to be a wine buff, there's no denying Tom loves nothing more than a flamboyant cocktail or two as he watches TV.
"The problem is I don't like beer, wine, champagne, I can't drink it. I never have," he tells ten daily. "But as you know, I'm a little bit flamboyant. To me cocktails are theatre. I love the big glass, the frosting you know. Wayne goes all out. And we always laugh because I'm a bit of a girl. You could probably put green tea in a nice cocktail glass and tell me it's a cocktail and I'll believe you."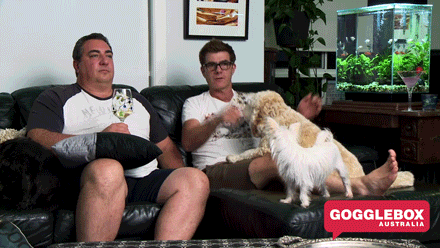 What you may not know about Wayne and Tom is that they have a family -- Jade, Zac and Tegan -- who they protect from the limelight even though cameras are in their home every week.
And you may not know the hilarious story of how they met, either.
"It's funny on Gogglebox, the show is not about people watching TV, it's more about us families now," say Tom. "And really people want to know all the time about our children, our lives, where we're from. And this book gives a little bit of snippet without telling people where we live. How about that!"
As for how they met. "It's the typical, cliché gay love story," Wayne says. "I had done a 'control alt delete' of my life, I had turned 30 and thought, "No, I don't want to do what I'm doing." I was in Queensland at the time and stopped in at Port Macquarie to see some friends of mine, and there happened to be a gay dance on at a place called the Butter Factory. And so I went along and when I walked in the door it was just full of people and then young Thomas here came up to me and said, "I'm the best looking thing here!" I just laughed and walked off. And then Kylie Minogue was playing, 'Love at First Sight' ... and it literally was. He came from one side of the dance floor. I came from the other and we were dancing and actually ran into each other and, yeah, eyes locked and we've been together ever since!"
But he still gave me a fake phone number. We did the whole end of the dance kiss and I said goodbye and he goes, 'What do you mean goodbye?' And I said, 'Oh you know I don't kiss and tell on the first date'. And so he gave me a fake phone number!"
Tom giggles."I was a single parent and I had to organize a baby sitter and all single mothers will know I had a limited chance to get action and wasted all my night. I wasn't going to get another chance for another month or two!"
Luckily the pair made up for lost time -- they're now three-Logie-award-winning TV stars and co-authors. How did that come about?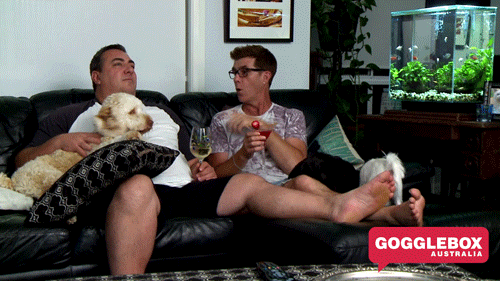 "For the last seven seasons we spent so much time on our social," Wayne tells ten daily, "and it's the biggest question we get asked all the time is, 'What cocktails are you drinking this week?' We were sitting with some friends, having a few drinks and a barbecue one day, and it just came up, we should just write a book and then we all went 'Nah, nah, nah, no one will buy it.' And then Tom started telling a story and then it was like, we should just do the stories with the book - - just make it a bit more entertaining than your traditional cocktail book."
And it is, very entertaining indeed.
Here are a couple of our favourite recipes from the book -- cheers!
Blue Heaven
MAKES 1
INGREDIENTS
Blue Curacao
Crushed ice
Berry infused bottled water
Sparkling wine or champagne
White tequila
Lime vodka
Alize bleu cognac liqueur
Blueberries for garnish
DIRECTIONS Take a highball glass, gently dribble blue Curacao down the inside of the glass and let it sink to the bottom. Fill the glass with crushed ice, a splash of infused berry water, sparkling wine or champagne, a dash of tequila, lime vodka and Alize bleu cognac liqueur. Gently stir and garnish with a couple of blueberries.
WAYNE'S NOTE "I take no responsibility for the events that may occur after consuming this cocktail."
Pomegranate Mimosas
MAKES 4
INGREDIENTS
Bottle pomegranate juice
Bottle sparkling wine or champagne
Pomegranate pearls, to garnish
DIRECTIONS Combine a bottle pomegranate juice and a bottle of your favourite sparkling wine or champagne. Pour into 4 chilled fluted glasses; garnish each glass with several pomegranate pearls and serve.
WAYNE'S NOTE "This drink is idiot proof, if Tom can do it, so can you."
Baileys hot choCOlate
MAKES 2
INGREDIENTS
Milk
Dark chocolate
Baileys Irish Cream
Whipped cream
Shaved chocolate
DIRECTIONS Pour 1 ½ cups milk into a small saucepan with 12 squares dark chocolate. Simmer over a low heat and whisk until smooth. Add a splash Baileys, another cup of milk and heat through. Whisk again and pour into 2 heatproof glasses or mugs.Top with whipped cream and shaved chocolate.
WAYNE'S NOTE "If you're not into dark chocolate, any chocolate would work a treat, let's face it, Baileys makes anything delicious."
Gogglebox returns Thursday, 30 August at 8.30pm on TEN .