We're All Entitled To A Portrait Of The Queen!
Because we all want to hang with her Madge, right?
If you're looking for a nice new decoration for the home or office, have you thought about a new painting... perhaps a portrait?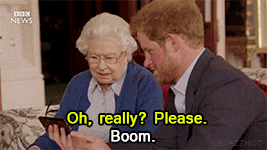 Don't rush out to buy one, though. You see, Vice reporter Nicholas Lord has you covered. He recently wrote an article revealing that if you're an Australian Citizen, you're entitled to your own portrait of The Queen.
According to Lord, "The portrait is specifically for Australian audiences; her lapel pin sports the Australian coat of arms, and she's wearing her "wattle spray" brooch she dons only for Australians." He goes on to say that Robert Menzies gave her the brooch on her first royal visit to Australia in 1954.
So meaningful. So royal. So perfect for my wall.
Oh, and if you want a matching pair, you can also get a portrait of Prince Philip (and maybe it's worth getting in early for that one, you know, just in case?)
All you need to do is email your local MP and ask! Better than a trip to Ikea for some "art", right?
Also, turns out you can get a selection of other fine fare from your MP, too. It's like a lovely one stop shop.
We're talking flags (though they're only for servicemen and not-for-profits), recordings of the National Anthem , booklets on the flags of Australia -- it's a veritable smorgasboard of national and royalist pride. AND it's all FREE! You just have to write in and hope that they have some of the finery in stock, or be prepared to wait.
If you have a parent or grandparent who is staunchly royalist then -- hey hey, we know what they're getting for their Christmas present, right?
Feature Image: Getty