People Are Using Dating Apps To Get A Different Kind Of Job...
There's networking and then there's networking...
So dating app Bumble launched their business networking site, Bizz, earlier this year -- and surprise, it's now a huge deal and people are legit using it to network and get jobs.
Make sense, right? They saw a niche in the (meat) market, and went for it.
Then there's Found -- the job-search site that works like a dating app, matching you with a job that's right without having to send in a letter and a CV like other job sites.
See a trend here? These days people are getting jobs like they're getting dates -- by heading online and matching.
But ICYMI there are loads of people who are using the ACTUAL dating apps themselves as the way they find gainful employment. Some are simply advertising themselves and their "wares" as part of their bio -- think bricklayers or electricians who see it as a place to get business as well as, well, a place to get busy. While others, like Julian*, simply match with someone on Tinder, and end up getting, ahem, a role instead of a root.
"I was working back one night -- I work in real estate -- and I got this match on Tinder, it was like 10 at night and I thought okay I will put my computer down and take a look at who I matched with," he reveals.
"I matched with this guy and he was like, 'Hey how are you, what are you doing?' I was like, 'I'm still at work!' and I asked what he was up to and he said he was at a property dinner trying to secure a client.
"He noticed that I work in property too because it comes up on my Tinder profile and asked me why I was still at work -- I told him, 'well we're short-staffed and I just want to make sure our clients don't suffer,' and basically he said my dedication was crazy!" Julian laughs.
One thing led to another and Julian*'s date made his move.
"He told me he worked in HR at this real estate agency, and if I was looking for new opportunities to let him know... and then I was like 'Funny you say that, I have been looking for another role!'
"He said, 'I have to get you in here in front of the general manager ASAP!' and then asked me to send my CV through to him – he turned out to be legit, I sent through my CV and I got an email reply in about 5 minutes. The next day I was meeting with the general manager and I got the job!"
Right? Cut out the old cover letter crap, and just get swiping right, right?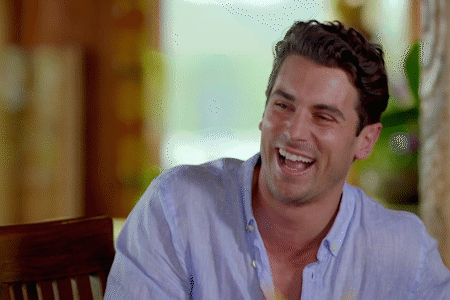 Louise Troen, Bumble's UK vice president of marketing, says this is actually quite common, telling the Telegraph in the UK that executives noticed people were using their profiles to network with others instead of getting dates.
"We noticed that our users were 'hacking' [the app] to connect in business," she said. "So they were saying 'Hi, I'm Sophie, I'm looking for a part-time producer to help me on this documentary I'm doing'. Someone would swipe on her and say 'hey I'm actually a producer, I'm a freelancer, let's get together'. They were forming these friendships that were also business relationships."
Troen continued that she thought the reason this was happening was that the platforms these dating apps offer are significantly different to more traditional sites -- these days we're all about networking wherever we can.
"The whole notion of networking has changed dramatically," she said. "In the past doing business was very formal, it was a very corporate notion. I think in the last ten years with the rise of millennials, the rise of entrepreneurs and opportunity has meant that lots of people are starting their own businesses... there wasn't an environment where they could do so.
"A lot of freelancers use it, especially in the creative industry because of the immediacy of it. If your photographer pulls out of a big shoot, you can go on straight away and find a photographer. It's not about uploading a super-hectic CV and waiting, it's about constant connecting and growing your network on a day-to-day basis."
Of course the burning question here is -- did Julian* ever go on his date?
"We didn't go on a date -- but the funny thing is though, we now work together in the office and I think that date is coming!"
Happy endings all round, then.
*not his real name. Obv.