Vintage Shopping Tips From People Who've Nailed It
Stylish and saving the world? What's not to love?
We all know that vintage shopping isn't just about saving the planet or saving money, it's also about those amazing finds that propel you into the shopping stratosphere.
Suddenly, you're the person who knows How to Vintage Shop. And everyone loves that person.
And yes, you're also saving the environment and saving money in the process so effectively you're a shopping ninja.
But not all of us are as proficient as others when it comes to getting the most out of the op shop... So in an effort to help you become the best you that you can be and to help you live your best life, ten daily spoke to three women we consider demons of the vintage shopping world to get their best tips.
You are so welcome.
Mel, 30, is known to all her friends as a vintage shopping legend. Seems only appropriate to ask for her tips, right?
Don't be afraid to shop around
It's easy with vintage to freak out and feel like you need to buy THAT faux fur coat because it's a one-off, but many times I've paid way too much for something out of fear of missing out, only to find a similar item for half the price at a different store. If you love it, obviously buy it. But if you're unsure, it's a good idea to hunt around a bit before committing.
For online vintage shopping, know your measurements
Sizing from previous eras was weird. A size 10 in 2018 can equate to a size 14 from the 70s, so don't go by sizes, go by your measurements. I also tend to buy up a size because I find vintage runs small for the most part -- and you can always get something taken in, but you absolutely can't get it let out, you know?
Follow all your favourite vintage stores on Instagram
I find they let followers know about new drops of stock via Instagram stories a lot of the time, and the best time to shop vintage is when a store has new stock, obviously.
Don't be afraid to bargain on the price.
"Some stores won't budge, and obviously part of the deal with vintage is you expect a bit of wear and tear. But I once bargained a $70 coat down to $50 with a dress thrown in for free, because the coat had water damage on the sleeves. As long as you're polite, there's no harm in asking."
Will you wear it?
"One thing I always try to do is imagine how often I can/would wear the item I want to buy. Does it work back with other things in my wardrobe? The thing with vintage is you usually can't return anything, and it's easy to get caught up in the vibe of a store or a market stall and think "yes, I absolutely need this fringed leather bodysuit" only to get home and realise you are not Cher in her 'Turn Back Time' years, and you have nothing to pare it back with."
Emma, 32, an online editor, travels the world buying up the best vintage clothing she can find. And she's here at your disposal.
Don't worry about things being too big
I am never put off by buying a few sizes up because it's easy to get stuff altered. Look for things that you love like a particular kind of print or a particular style like a peter pan neckline. If you find something that's a really good example of some style you love you can usually alter it. Getting a good seamstress is everything
Look for labels
In classic things like jeans, white shirts, blazers... and compromise on brands for crazy or outrageous things. i like a mix of both but generally if it's fairly plain i will hold out for a classic or premium brand and then make an exception for something a bit weird or one of a kind.
You can clean it!
Nappy san absolves (almost) all sins -- don't be put off by the smell of an item because it really is very easily fixed and you'll be amazed how well it will come up.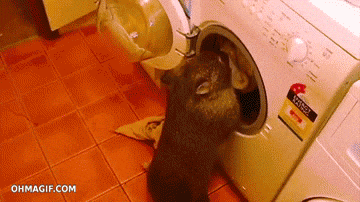 Nastassia, 40, works in a charity shop and has impeccable taste and all the insider knowledge!
Buy it when you see it
If you see something you like, buy it. Things won't often be there when you go back for the -- especially designer items.
Get yourself a sewing kit
If you buy something with a broken zip or missing buttons it's really easy to fix yourself.
Know the shops inside out
Some op shops have affiliations with brands like, say, Country Road or Zara so you can get items at a huge discount. It's not adverstised so it's more about being familiar with the store you visit and keeping an eye on their stock.
Be aware of pop up sales
This is determined by how much stock is in store. That means jeans that are already cheap at say $20, will be half price, simply because they have too much stock!
Feature image: Getty