Photos of Kate Middleton's Christening Have Emerged
And she's the double of little Prince George.
Just when you thought the social media buzz from the royal wedding was finally over, people are, yet again, tweeting and snapping all things royal related -- only this time it's about babies.
With Prince Louis' christening set to take place on Monday, July 9, one royal enthusiast recently took to social media to share what they claim to be some very intimate family pics of the Middleton family.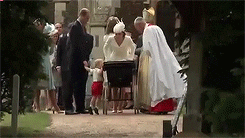 As Harper's Bazaar reported on their website, the royalist account Tea Time With The Cambridges sent out a major throwback on July 4, which, according to its creator, shows Kate Middleton on her christening day.
According to the post's caption, the photo shows Kate wearing a delightful, white flowing christening gown while being held by her mother Carol next to her father Michael.
"Not much is really known about her christening other than these photos we have!" the caption stated. "She was christened on June 20th, 1982 which is coincidentally 1 day before her future husband would be born (mind blowing)!"
The same post also features three other retro happy snaps, which, according to the caption, include Kate's maternal grandmother Valerie.
The post's creator also suggested there's a striking resemblance between Kate and little Prince George.
"I love these pictures so much as we can tell where Prince George got his famous grumpy faces from (or all his looks honestly)!" the caption stated.
Other royal enthusiasts were quick to share their thoughts on the subject too.
"George looks so much like Kate as a baby," one person wrote.
"Yes! I always thought that Prince George bears a strong resemblance to his mother. Loved seeing these pics!" another person said.
"Omg!! It's Prince George!! That's amazing. I love seeing Catherine's Christening photos," a third fan person added.
According to People, Prince Louis' christening is being held at the Chapel Royal of St. James' Palace in Westminster, London.
Following in the tiny footsteps of his siblings, the service will be conducted by the Archbishop of Canterbury, the Most Reverend Justin Welby, who christened Prince George and Princess Charlotte -- and most recently officiated Prince Harry and Meghan Markle's wedding.
Feature image: Getty.