Kardashian's Hair Stylist Is Releasing A Kanine Shampoo
Let your fur baby channel its inner Kim, Kourtney or Khloe.
Let's face it, we all want our pets to have the best of everything -- and that includes luxurious hair care products. Or should we say, fur care products?
Well, now you can, thanks to celebrity hair stylist -- and close friend and confidante to the Kardashian Klan -- Jen Atkins.
Atkins is well known for creating some of the most memorable looks for the Kardashy-Jenner crew, and now she's extended her already successful OUAI hair care line to include Kanines. Yay!
As any pet parent will tell you, finding a shampoo that doesn't cause irritation can be tricky at the best of times. Well, Atkins has got you covered.
Speaking to Allure, Atkins said there was a clear gap in the market for a pet-friendly shampoo because people were tagging photos of their fur babies using human shampoos.
"We're always checking in asking [what] people want to see from us next, and that was something that everyone was kind of pushing for," Atkins said.
According to the OUAI website, the new pet shampoo will not only make your precious pet look and smell like a star, but it's also designed to be safe for sensitive skin, fur and paws -- whether your pet barks, meows or snorts.
The brand recently announced the shampoo on Instagram, describing it as a "gentle wash made specifically for your four legged friend and safe for all shapes, sizes and species."
But despite being gentle in its formulation -- with no parabens, sulfates and phthalates -- it doesn't compromise on odour-fighting capability, leaving your pupper, kitty or porker smelling like a bed of roses, thanks to notes of Italian lemon, Turkish rose, and Jasminum sambac.
What's more, the inclusion of apple cider vinegar -- something Kourtney would approve of -- aloe and hibiscus extracts help to keep your pet's fur feeling silky smooth and pet-able.
"Apple cider vinegar is something across the board we all thought was really important," Atkins told Allure.
"I actually didn't know the importance of aloe leaf, and our product-development team brought that to the table. I've had dogs in the past who have had really sensitive, itchy skin, so that came into the ingredient list because that will help soothe those problems."
So how much would you expect to pay for a pet shampoo fit for a Kardashian Kanine -- $10, $20, $30? Try nearly $40 ($28 US).
But, there's a reason why. And it's not a money-making scheme. We promise!!
Despite the hefty price tag, the shampoo is actually designed to give back to pets in need, donating 15 percent of all proceeds to Lisa Vanderpump's Vanderpump Dog Foundation -- a non-profit organisation that aims to create a better world for dogs globally.
So not only will your pupper be a sweet-smelling pooch, but he can also sleep better at night knowing that his luxurious, luminous locks are also helping pets in distress around the world.
And that sounds good to us.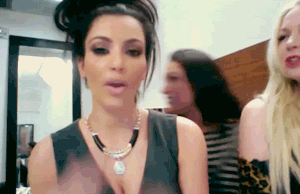 Feature image: Getty/Instagram@theouai