Chloë Grace Moretz Bares All In Makeup Free Shoot
The actress gets real about skin care.
As one of the most highly sought-after actresses and models in Hollywood, Chloë Grace Moretz exudes beauty, talent and above all confidence.
So when the 21-year-old blonde babe hesitated at the thought of appearing fresh faced in an un-retouched beauty campaign for Japanese skin care brand SK-II, we were ... well, surprised TBH.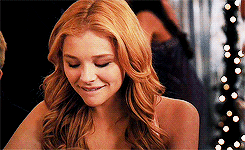 "It's always a scary idea -- the thought of being bare skinned in a campaign like that," the star of Kick-Ass and Carrie told Teen Vogue. "It's something that I had never thought would be possible."
While you'd never guess it, in her teens, Chloë struggled with cystic acne -- a severe skin condition that results from blocked pores, causing infection and inflammation.
"I think what people don't talk about is the psychological element to having skin problems, and that was the hardest thing for me. It strips your self-confidence in a lot of ways, you know you can't hide from it at all, and you lose a little piece of yourself," she said.
As Chloë explained, just the thought of going makeup free brought all those painful memories back. But what she didn't realise was the purpose of the campaign was to promote bare skin as beautiful and empower women.
"It was so refreshing to hear about a campaign that aims to embrace women's natural beauty and spark a movement of authenticity and confidence," she said.
So putting her doubts aside, Moretz, who is a passionate body confidence advocate, agreed to take part in the "Bare Skin Project" -- a series of makeup free unretouched images -- as a way to empower young girls.
"I knew that this was a perfect fit for me and what I represent," she said.
Appearing alongside international starlets Chun Xia, Kasumi Arimura, Mayu Matsuoka, Ni Ni and Tang Wei, Moretz posed for the photos after using only one product on her skin, the brand's signature Facial Treatment Essence.
According to SK-II's website, the product claims to provide a gentle exfoliation that refines pores, evens skin tone, prevents wrinkles and provides a healthy glow.
After appearing in the campaign, Moretz said she was pleasantly surprised at how the experience had continued to boost her confidence.
"I think I underestimated the amount of self confidence that it would give me. It really meant something to be able to see the photos ... because it's just me. It's exactly who I want my fans to be able to see. The Chloë that I wake up as and the Chloë that I go to bed as."
She added, if she could give only one piece of advice to her younger self, it would be to not get so caught up in trying to be something you're not.
"Having that platform to be as transparent as possible with the realities and skin troubles that we all go through on a daily basis -- is the first step to changing the ideals of what beauty is," she said.
Feature image: Getty.