8 Tips For Planning The Pawfect Pet Party
Your fur baby deserves to be celebrated and spoiled.
Australians spend a whopping 12 billion annually to give their pets the best of the best.
From posh pampering sessions and doggy day care to canine cuisine and luxe accessories -- think Louis Vuitton coats and Tiffany & Co. collars -- they literally are living the glamorous life.
And with more and more fur babies being the "only child", as it were, in many households, we're also seeing an increase in the number of lavish pet parties taking place -- from birthdays to weddings and even barkmitzvas.
Even celebrities such as Chrissy Teigan and John Legend have embraced the trend, with the pair once throwing a lavish wedding ceremony for their precious pups and John even singing the wedding song!
Veterinarian Dr Cherlene Lee from My Vet Animal Hospital said pet parties are definitely gaining popularity around the world.
"Over the past six months, I've received more enquiries about the best ways to throw a pet party, especially on how to prepare pet-safe food," Dr Lee said.
With all the dog-friendly treats, themed decorations and over-the-top party outfits, Dr Lee said the cost of throwing a pet party can soon add up, but it doesn't have to break the bank.
Here are Dr Lee's top tips for throwing a fabulous fur baby affair on a budget.
Keep the guest list intimate
Yes, you might be excited to throw a flashy canine affair, but as Dr Lee explained, only invite dogs that your pooch has previously interacted with before. That way you'll know they'll get along.
And if there are children coming, make sure that they are comfortable with animals so that they don't become frightened or scare your dog.
"Set up a fenced off area if possible to keep the dogs and children separate to avoid any issues -- this can also serve as a timeout zone if the dogs need it," she explained.
Select the right venue
The right venue for your pet party needs to be pet-friendly, but it also should have plenty of parking, toilets and play areas.
"Choose a free venue such as a park or your own backyard to give your pooches lots of play area," Dr Lee said.
UnleASH your inner Master chef
Sure, you can cater for the affair. Heck, you can even buy food that's suitable for both dogs and humans. But as Dr Lee suggested, why not try making your own pet-friendly fare?
"Double check ingredients to make sure there are no nasties, such as cream cheese or chocolate, which would disagree with your fur baby. Check with your vet if you are unsure of certain ingredients."
Ask a friend to get snappy
Instead of using a professional photographer, take some happy snaps yourself on the big day, or ask a friend to capture some precious moments. That way you'll save yourself from getting a hefty bill at the end of the day, Dr Lee said.
Create your own DIY games
No party is complete without a few fun games -- and that goes for your pup's shindig as well. While simply playing chase is lots of fun, adding some more organised games will make the day fun for everyone.
"Create your own DIY games such as a treat-filled scavenger hunt or animal friendly musical statues to get the pet parents involved too," she said.
Use electronic invitations
Not only are e-invites better for the internment, but as Dr Lee explained, they save money and make it easier to keep track of your RSVPs.
Don't forget the essentials
Whether you're hosting a house full of dogs or going to a park, make sure you have the basic necessities such as plenty of water bowls and poo bags as these can easily be forgotten. Also consider taking a canine first aid kit for any accidents.
Choose the right costume
OK, so if you love to dress up your pet, make sure you're doing it because they enjoy it and not just for your amusement. Never put your fur baby in an outfit they are uncomfortable with.
"Opt for a cute hat or funky collar on a hot day rather than a full costume to keep your animal cool. You should also look out for any visible signs of distress and remove the costume immediately if your pet looks uncomfortable," Dr Lee said.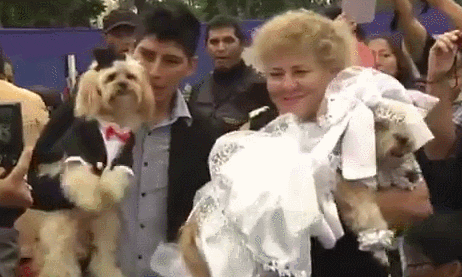 Feature image: My Vet Animal Hospital.