Kylie Jenner Reveals $5 Beauty Hack In Vogue Makeup Tutorial
Plus the one product she uses from sister Kim's range.
Kylie Jenner, the 20-year-old cosmetics queen -- or should we say, 'kosmetics kween' -- has blessed us with a veritable truckload of beauty tips in her Vogue makeup tutorial.
The 10-minute clip has literally blown our minds. There is just so much to unpack -- including her cheap-as-chips makeup hack and her pick from big sis Kim's own cosmetics range -- that we almost couldn't keep up.
We are slightly embarrassed to admit that we had no idea -- NO IDEA -- that a makeup routine could involve so many steps and products. And Jenner's is by her own admission just a "simple" day look. Also WTF is "baking"? We were not prepared.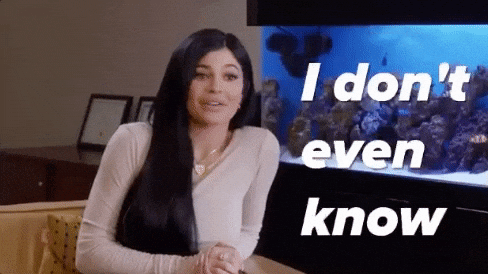 We also never knew that the multi-millionaire thought her brow skills were so under par that she used to have her pal and housemate Jordyn Woods do them for her. Well whaddaya know, even the pros need a little help from their friends.
Our biggest take away from the vid was Jenner's long-standing love for all things makeup. The girl used to rock blue eyeshadow in sixth grade -- and her mum Kris was totally cool about it.
The new mama is already thinking about when her own bub might start dabbling in her cosmetics cabinet, but considering Stormi is just five months old we reckon Jenner will have her makeup bag all to herself for a while yet.
Let's get stuck in.
Eyes
Jenner keeps her prep simple, opting for just moisturiser and Chapstick -- her first nod to wallet-friendly products in the video -- before brushing up her brows and lightly filling them in with pencil.
She uses an angled brush to line under her brows with concealer, then brings it down to her entire lid. That's her base for her eyeshadow.
The new mama decides on a "simple" eye look -- she has meetings that day -- and begins by applying a matte shade from a new Kyshadow palette on her crease followed by a lighter shade right under the brow bone.
A darker brown shade creates a dramatic 'cut crease' across the lid making Jenner's peepers appear bigger and brighter. Next she uses her finger to dab on a bright gold -- her "new favourite." She dabs 'Juicy,' an orange shade, on the tear duct or inner corner of her eye.
This is when the beauty mogul drops her budget hack. She uses a makeup wipe -- these retail for about $5 at most chemists and beauty stores -- to sweep up any excess eyeshadow underneath her eye. That's why she does eyes before foundation. Duh.
Face
Now Jenner clips her hair back and gets on with foundation. Her pick? Marc Jacobs Fantasy Dew Drops which she applies with a big brush, but not too thick as she likes her freckles to peep through.
Remember how she underlined her brow arch with foundation earlier? She goes in again but this time above the brow. Next Jenner grabs two concealers -- one pink, one beige-toned -- and swipes it down the bridge of the nose, under both eyes, on the top lip and chin then blend, blend, blends with a Beauty Blender.
Jenner ups her SPF with a powder sunscreen by Chanel then sweeps bronzer under her cheekbone and finishes with setting powder from sister Kim's KKW Beauty range. She contours in a number three shape, starting at her forehead, scooping down under her cheekbone then along her jaw to the tip of her chin.
Next, she bakes but not in the way you think. 'Baking' in the makeup world means applying powder along bottom half of cheek and jaw to shape the face. Jenner leaves it unblended while she continues with the rest of her face.
Final touches
The lip liner icon covers her whole lip with a brow-beige hue -- she's such a pro that she can did it with her eyes shut. Another dab of 'Juicy' goes on her lower lash line then she cleans up excess with powder.
Then it's time for her favourite part, blush, and she picks one -- Barely Legal' --from her own range and makes sure to smile while applying so she knows where it goes.
She finally blends in the baking then goes in with Dior Show black mascara on her top lashes, and a brown hue on the bottom for a more subtle look. She uses a small brush to apply highlighter in 'Salted Caramel' -- again from her own range -- on her cheeks but blends with with her finger on the bridge of her nose, top lip and chin.
A sweep of lip gloss, some brow gel and more blush -- "I'm drowning in it" -- then a hefty spritz of settling spray -- "Don't be scared, it will dry." Okay, we trust you, Kylie!
Feature image: YouTube/Vogue.