Modern-Day Lassie Rescues Hiker, Deserves All The Pats
"This dog is a guardian angel."
After helping an injured young hiker find their way home, Alaskan pooch Nanook is being hailed as the modern-day incarnation of heroic Hollywood canine Lassie.
There are a few key differences between the two pups of course. Nanook, or 'Nookie' for short, is not a Collie but a Husky, and she is, in fact, a he.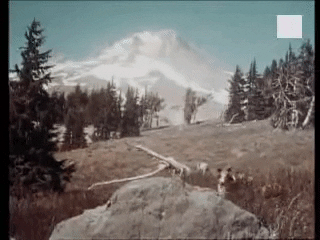 The VGB -- that's Very Good Boy -- lives with his owner in Girdwood, a tiny resort town nestled in the Chugach State Park in southern Alaska.
The adventurous doggo was adopted by his 'dad' about six years ago and is known to roam the snow-covered slopes of the national park on his own.
The tag on Nookie's collar states his formal title as 'Crow Pass Guide,' and it seems that the pooch takes his job very seriously.
When the Husky spotted solo hiker Amelia Milling take a tumble on June 19 he sprung into action, coming to her aid and remaining with her throughout what turned out to be a grueling 48 hours.
Milling, a 21-year-old from Tennessee, ran into problems on the second day of her planned three-day-hike through the state park after attempting to descend an icy slope.
She lost control, slipping about 50 to 100 metres until she hit a rock which launched her and her heavy pack into the air.
"I felt like I was flying," she told a local newspaper.
When the university student -- who is also deaf -- got her bearings she noticed a fluffy white figure in the snow. Sure enough, she wasn't alone.
"My first response was, where's the owner?" Milling said. After checking Nookie's collar she realised that the dog was there to help her.
Nookie led the young hiker back onto the trail before Milling, a little sore and sorry for herself but otherwise okay, decided to set up camp for the night.
The loyal pooch knew his job wasn't done so he bedded down outside his new companion's tent. Milling was surprised to see her friend still there in the morning. What she didn't realise was that her ordeal was far from over.
The pair continued on to a ford site along the Eagle River which runs through the park, but Milling's first crossing attempt was unsuccessful. The current was too swift.
Undeterred, Milling tried again at another spot but had worse luck. The water was deep, fast and very, very cold. She was swept off her feet and plunged into the glacial rapids
"I was struggling," she recalled.
Not on Nookie's watch. The four-legged hero leapt into the rushing waters and helped Milling splash back to shore. Freezing, exhausted, battered and bruised, Milling got into her sleeping bag and tried to warm up.
After a few hours she decided to pull the plug, with a little encouragement from her pal Nookie of course. The good boy wouldn't stop licking her face until she pushed the emergency locator on her satellite messenger.
An Alaska State Trooper helicopter team soon arrived to rescue Milling and her faithful furry friend. The rescue team were astounded to find out that Nookie didn't belong to Milling after hearing of his heroic deeds.
"He's Alaska's version of Lassie," one trooper remarked.
Milling is now home safe and well, and is already planning to finish her ill-fated hike, but she might bring a friend -- or even Nookie himself.
"I believe the dog is a guardian angel," she said.
"I told him several times that I love him and I'll never forget him."
Nookie was sure to have received lots of pats and treats, but according to owner Scott Swift the pupper's bravery is nothing new.
Swift said that the Husky has been helping out hikers for years -- even saving a young girl from drowning -- despite not having any formal search-and-rescue training.
The proud owner set up a Facebook page for his now-famous pet, encouraging people to share their adventures and photos with Nookie so that the world can see just how special he is.
Here's to Nookie, the goodest human-rescuing pupper ever, after legendary Lassie at least.
Feature image: Facebook/Sharon McMullan Milling