Corgi Races Are A Thing And These Pics Will Make You So Happy
Walkies!
Forget the Grand National. There's a super-cute race that's attracting a new generation of racegoers. The latest four-legged friends making a dash for the finish line are none other than the Queen's favourite fur babies, corgis. Perfect little bread loaf splooting, corgis!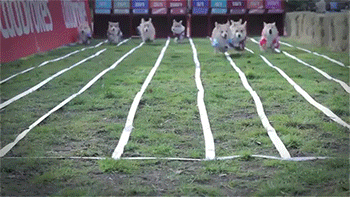 Attracting more than 100 adorable pups and their humans from far and wide, this unique racing event -- aptly named the SoCal Corgi Nationals -- recently took place in Arcadia, California, where the speed demons competed against each other.
But despite being a hotly contested race, it is just all fun and games for these fur babies.
In addition to the 17-heat race, all doggos and their owners were treated to a range of Corgi-centric vendors, pop-up food stalls, fancy dress, and carnival rides -- now that's nothing to be sniffed at.
And there prizes to be had -- including the first-place trophy awarded to Roi and his owner Rick Garcia.
The win didn't come easy, though. Roi was up against some serious competition from the likes of Benji, Loki, Nubby and Jojo, and at one point, it seemed as though competitor Iggy was going to take the lead. But in the end, Roi rose through the pack to take the treasured spot of top dog.
Despite needing to be in tiptop shape, training for these pampered pups isn't as tough as it might seem. For the most part, it's just a bit of fun and a laugh. The owners can even use treats to lure their bonsai breeds toward the finish line.
Speaking to ABC7 Eyewitness News, owner Nicole Yau said one of the most effective ways she entices her canine to victory is to use hot dogs.
"I'm going to be on the end and he knows I have the hot dogs. We're allowed to use treats," Yau said.
While it's nice to receive a medal or cup, another proud owner reportedly said winning isn't everything.
"If he doesn't come out of the box, we're still proud of him," they said.
It's pretty clear that people love corgi racing, and following on from the success of the Corgi Nationals, these low-riding pups will yet again take to the track to compete in the upcoming annual Corgi Dog Races and Cupcake Festival this weekend.
Feature image: Getty.