People Are Paying $50 For Hot Dog Water
Wiener bit confused.
There's no denying people are obsessed with finding the fountain of youth, so much so that, over the years, we've seen a number of weird and wacky food trends come and go. But the latest trending elixir may be the craziest one yet.
Hot dog water.
Yep, that's right, the water they cook hot dogs in. And what's more, people went berserk over the so-called miracle drink at a festival in Vancouver recently.
But all was not as it seemed. It was in fact a clever marketing stunt designed to bring awareness to misleading marketing ploys.
Created by Hot Dog Water CEO Douglas Bevans -- in reality, a performance artist and tour operator -- the miracle water promised to help you lose weight, increase brain function, make you look younger and improve your vitality -- all while being keto-friendly.
Bevans set up a stand -- complete with product information and expert testimonials -- on a busy street during the Car Free Day festival and invited people to to enjoy what he referred to as a "chilled, refreshing, and healthy" glass of Hot Dog Water.
Speaking to Global News, Bevans said he created the stunt as a commentary on what he referred to as "snake oil salesman", and the reactions ranged from curious to utter confusion. But people still forked out their hard-earned for the sausage-brew.
He added that in addition to the ludicrous false health claims advertised on the day and so-called "scientific evidence", the fine print read: "Hot Dog Water in its absurdity hopes to encourage critical thinking related to product marketing and the significant role it can play in our purchasing choices."
Despite the clear warning, according to Bevans it didn't stop people from purchasing the water.
"They've been drinking it for hours," he said told Global News. "We have gone through about 60 litres of real hot dog water."
As Bevans explained, although it may seem like a bit of a mean prank, the success of the stunt will hopefully educate people about the dangers of believing things on face value.
"From the responses, I think people will actually go away and reconsider some of these other $80 bottles of water that will come out that are 'raw' or 'smart waters', or anything that doesn't have any substantial scientific backing but just a lot of pretty impressive marketing," he said.
Let's hope he's right.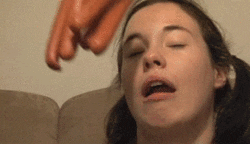 Feature image: Instagram/@williamjans.