Game Of Thrones' Kit Harington And Rose Leslie Are Officially Married
Not your average Westeros wedding.
When it comes to Game of Thrones' weddings, we've kinda grown accustomed to seeing a wee bit of treachery, skulduggery and bloodshed -- after all, they didn't call it the red wedding for nothing. But the latest nuptials of former co-stars Kit Harington and Rose Leslie were anything but that.
The loved-up pair, who started their romance on the set of the hit show, finally tied the knot in one of the most eagerly anticipated weddings of the year on June 23 in a quaint little church near Wardhill Castle in Aberdeenshire, Scotland.
Walking down the aisle, Rose, 31, looked positively radiant wearing a long-sleeved ivory lace gown, with white flower crown and cathedral veil. She also carried a small bouquet of white delicate flowers.
The bride, who is a descendant of King Charles II, was escorted by her father, Sebastian Leslie -- an Aberdeenshire councilor and the chief of the ancient Leslie clan -- dressed in traditional Scottish attire, including kilt.
"We are absolutely thrilled for Kit and Rose to be marrying today," Sebastian reportedly told the press before the ceremony. "It's an absolutely lovely day for us."
Looking ruggedly handsome, Kit, 31, wore a long black jacket over a cream-coloured vest, white shirt, black tie and grey pinstriped trousers. But despite rumours he would cut off his trademark hair, the actor's no-fuss locks were still insitu on the day -- phew!
While we can't be certain for sure, we can only assume the traditional couple also embraced a few Scottish lucky charms. One tradition in Aberdeenshire and Angus is to place a sixpence -- or more recent coin -- into the bride's shoe. Yikes, makes for an uncomfortable walk down the aisle.
Another Scottish lucky token is for the bride to also have a sprig of white heather hidden in her bouquet.
In addition to family and friends, the newlyweds were also joined by some of their fellow GOT cast members -- let's face it, what's a celeb wedding without a few big names. Among the many notable guests in attendance were Sophie Turner and Maisie Williams, who play Stark sisters and siblings to Kit on the show.
Turner was on fire in a red suit dress -- perhaps she was channeling the red wedding -- with a pair of over-the-knee-length black boots, while Williams sported a low key black jumpsuit with red pumps.
Other co-stars, Peter Dinklage (who plays Tyrion Lannister) and Emilia Clarke (who plays Daenerys Targaryen) were also seen arriving in Aberdeen on Friday ahead of the reception. Ben Crompton (who plays Eddison Tollett) also joined in the merriment, as well as other celebs, such as Makin Akerman.
According to reports, it was Father Chad Boulton -- a black-cloaked Benedictine monk, from Ampleforth Abbey -- who officiated their nuptials.
As the pair emerged from the church as husband and wife, guests cheered and tossed confetti as they proceeded to make their towards a suitably decked-out Land Rover, in which they later drove off to the reception at the bride's family castle nearby, where they were joined by guests.
Despite being together for four years, it's been a bit of a wedding whirlwind for Harington and Leslie, who only announced their engagement in September 2017 with a notice in the Wednesday edition of The Times of London newspaper.
"The engagement is announced between Kit, younger son of David and Deborah Harington of Worcestershire, and Rose, middle daughter of Sebastian and Candy Leslie of Aberdeenshire," the announcement -- under the names Mr. K.C. (Kit Catesby) Harington and Miss R.E. (Rose Eleanor) Leslie -- read.
While it appears the wedding seemingly took place free of any bloodshed, dare we say, the bride and groom took no chances when it came to organising their happily ever after -- in other words, no pigeon pie on the menu!!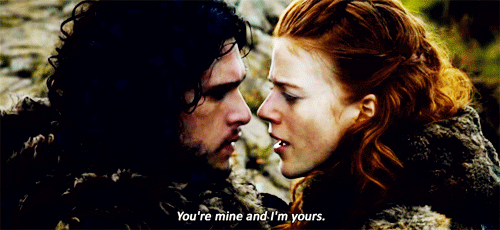 Feature image: Getty.