Decoding The 'No Label' Relationship Trend
If you like it should you put a label on it?
Zayn Malik and Gigi Hadid have to be the 'it' couple of the past few years. They're young, beautiful and obviously so very into one another.
Which is strange because they're not technically a couple -- at least not anymore.
Nope. They broke off their two-year relationship in March 2018 but -- BUT -- they've been spotted doing cute couple-y things like snuggling and smooching and playing Pokemon as recently as June 5.
Huh? Yes, we were a bit confused as well. Thank goodness then that the ex-boy-band-member-turned bad-boy clarified in an interview in GQ magazine.
"We're adults," the One Direction alum, 25, said of his relationship with the 23-year-old Victoria's Secret model in his cover story for the magazine's July issue.
"We don't need to put a label on it, or [sic] make it something for people's expectations … I'm really thankful that I met her."
Okayyyyy then ...
And they're not the only ones playing it coy despite looking rather cosy. PDA-prone pair Justin Bieber and Hailey Baldwin have yet to go public while Priyanka Chopra and Nick Jonas are acting every inch the couple without actually calling themselves one.
The idea of a relationship sans label got us thinking and pretty soon our brains were popping with ALL the thoughts. What exactly is a 'no label' relationship? How do you know if you're in one? Does a relationship require a label -- such as 'serious,' 'long-term' or 'official' -- in order to succeed?
And most importantly -- is claiming that a relationship is label-less in itself putting a label on it? Before we went too deep we called in an expert on all things luuurve and dating, Renee Slansky.
First up we quizzed Slansky, an international dating and relationship expert and founder of The Dating Directory, on the typical signs of a 'no label' relationship.
"You're usually not referred to or introduced as a partner/boyfriend/girlfriend to others," Slansky told ten daily. "There usually isn't a clear future planned out as most people [in a 'no label' relationship] just seem to take it as they go."
Having wholly separate lives, not attending events together and a lack of consistency in the amount of time you spend together are other characteristics of a label-less relationship.
In Slansky's experience most people are inclined to stick with tradition and so labelled relationships are more common. However, opting against conventional classification when it comes to dating is on the increase.
Slansky puts it down to our millennial mindset. Young lovers like Gigi and Zayn for example are "creating areas of grey to feel more comfortable with their choices."
It looks like our obsession with dating apps Tinder and Bumble are partly to blame for this reluctance to commit. "I think people's fear of labels has increased due to access to dating technology, social media rejection and public social media profiles."
It kinda makes sense. Why take the big leap and date exclusively when you can just keep swiping right? There might just be someone better on the horizon ...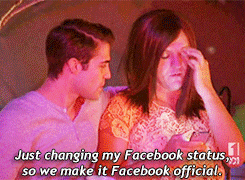 Along with our phobia of making things 'Facebook official' things like the increase in the divorce rate and ambiguity around personal identity are also contributing to the need for a label-less connection.
Before you throw in the towel and give up on finding someone who's ready to commit hear this. Slansky told ten daily that most people are comfortable with labels. Women in particular as it gives them a sense of security, plus it sets boundaries and keeps things transparent to others.
What if you meet someone and they don't want to put a label on it? It says a lot about them -- and not you -- in Slansky's opinion. But it's not all bad.
It can mean that they simply don't feel the need to justify their choices or status to anyone else outside of the relationship.
"This gives the person -- or both people -- the freedom to be able to do what they want without feeling they are accountable to what a

traditional

label might entail."
Most of the time, however, a 'no label' relationship represents an individual's indecision about the future of that relationship according to Slansky.
"It's a whole other ball game if that person is using the 'no label' label as a reason to not be held accountable for contributing what a healthy relationship needs -- boundaries, common values and open expectations of each other."
If you do find yourself knee-deep in a 'no label' relationship should you head for the hills like many on social media are encouraging Gigi to do? That'd be a no from Slansky, with some conditions of course.

"I don't think we should live by labels or always feel we need to justify our choices to other people," she told ten daily.
"However openly saying you aren't putting a label on your relationship signals a lack of commitment, decisiveness and direction."
As a relationship expert, Slansky sees this behaviour as a red flag.
With that in mind, is it silly to ask if can a 'no-label' relationship can go anywhere meaningful?
"Of course it can," says Slansky. "It can evolve into a marriage or a status where both people are ready to ... take the next official step."
So how can you have a successful label-less relationship?
First of all remember this. "You can learn something from every relationship, but knowing what that type of relationship entails helps you understand the consequences a bit more."
Slansky advises people to first talk about the types of expectations that they each have when it comes to a 'no label' relationship." It may seem silly to define how your relationship won't be defined but that's the key Slansky told ten daily.
Once both parties have established their expectations -- or lack thereof --it's time to enjoy the benefits. As Slansky explains: "There is more flexibility around a 'no label' relationship because it can literally go either way and no one will be surprised!"
If you're still scratching your head Slansky's final thoughts on the subject should ease your mind. She believes that a healthy relationship isn't determined by the label attached to it but by the actions made within it.
"You can be in a marriage and still have commitment and trust issues. It's more important that you are both on the same page and are making decisions from the right mind-set and the right reasons."
"The two biggest indications of a healthy relationship will always be peace and progress." That's something we can all bear in mind, no matter what type of relationship we're in.
Feature image: Getty.