Are You In Need Of A "Jobbymoon"? (It's Not What You Think)
It's the perfect break between jobs ...
First there was the honeymoon, then the babymoon … and now, the latest term that's popping up on travel blogs everywhere is the "jobbymoon".
While the word may conjure up a range of explicit images, it's okay, it's just the name of the holiday you take after leaving your current job before starting your new role (phew!).
Chances are, if you're like most of us, you've probably had the opportunity to go on one these trips umpteen times but simply chose not to. Experts say this is probably due to our fear of missing out on a role or opportunities with prospective employers.
Wotif Travel expert Amanda Behre said despite Australians being among the luckiest in the world when it comes to annual leave allowance, we're terrible at actually taking holidays, so opting for a jobbymoon is a fantastic solution.
Not only can you get away without worrying about the work that is waiting for you on your return, but two in three Aussies admit to feeling more committed to their careers after a holiday, she said.
What's more, it gives you time to reset and establish new goals for yourself, and it allows you to start a new job with a fresh, positive mindset, which can be beneficial for both you and your new employer.
"Millennials may also see the most benefit, with 43 percent of Gen Y more likely to embrace a career challenge," Behre added.
In the past, honeymoons and babymoons have been culturally embraced as trips that signify important life milestones, so it only seems fitting that we should aptly name the holiday that signifies switching jobs and moving up the career ladder.
What makes the trend so wonderful -- albeit a little strange to say out loud -- is that you don't necessarily have to travel to far to gain the benefits. From a hike through the Daintree Rainforest, to a low-key getaway along NSW's South Coast, the possibilities are endless.
"There are so many great experiences in our own backyard that will allow you to switch off and reset before you start your new role," Behre said.
Speaking to The New York Times recently, career coach at The Muse, Joy Lin also said travel is great because people learn a lot about themselves.
"But you have to know what you're hoping to get out of it," she added. "You don't want to use travel as an escape between one job that you don't like and the next job you don't like."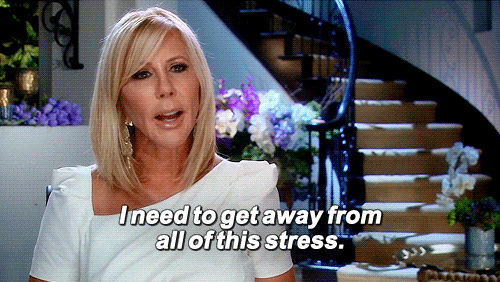 So where to from here?
Well, as Behre suggested, if you've got time available to you, a jobbymoon is perhaps one of the most beneficial "moon" trips you'll ever take.
With more and more Aussies increasingly feeling stressed and overworked, a jobbymoon presents a unique opportunity to get away and disconnect from the day-to-day.
But to be frank, any excuse to take a holiday is fine with us.