Why The Ocean's 8 Cast Stopped Filming For Anne Hathaway
These working mamas make sure to look out for one another.
The Ocean's 8 cast is killing it right now. They're smart, talented, funny and they incinerate every red carpet with their achingly chic outfits.
But that's not why we love them. Nup.
What's really got us hooked on these gals is their genuine and undeniable friendship. You can just tell that they actually adore one another.
Case in point: stars Cate Blanchett and Sarah Paulson's hilarious Today show interview. The tight twosome could barely contain their giggles and it left us wanting in on the cast's love-fest. They hold hands at film premieres for heck's sake.
Now the latest example of Ocean's 8 #BFFgoals has emerged and we are LIVING for it. Paulson and Blanchett were joined by their cast/soul mates Sandra Bullock, Mindy Kaling, Awkwafina and Anne Hathaway for an interview with Today hosts Savannah Guthrie and Hoda Kotb.
When the chat turned to kids -- most of the women are working mums -- Anne piped up about her own experience with breastfeeding her baby boy Jonathan, now two, on set.
The actor, 35, admitted to being hesitant about pumping breast milk in the workplace -- in her case a film set -- but credited her girl crew with supporting her every step of the way.
"I was breastfeeding and I was like 'Is this going to be a positive environment to do this in?'" Anne explained about her initial reservations.
"But everybody was fantastic and they understood," she revealed before recalling an awesome moment where her cast mates swooped in to help.
I remember there was one moment where we were shooting a little long, and I just kind of went, 'Uhhh,' and the girls were like 'What's wrong?' And I said, 'I'm sorry, I should have pumped an hour ago.'
What her co-stars did next had us on our feet and cheering.
"And the girls just, like, formed around me, and they were like, 'We need a break. We need a break. Annie needs to go do this.' And it was just, like, I mean, who gets that?"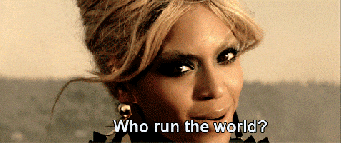 At this point in the interview a mischievous-looking Cate chimed in with a cheeky comment on Anne's then-ample bosom. "It really worked for the costume," she quipped.
Anne joined right in and agreed that her "entire character was built from the chest up."
These ladies are seriously cool. They can laugh and joke with each other -- and star in a box office-busting film to boot -- but most importantly they respect and support one another.
In our opinion that's worth more than the $41 million (and counting) that the blockbuster is currently bringing in.
Feature image: Getty.