New BFFs Oprah And Meghan Markle's Mum Bond Over Yoga And Weird Fruit
So is an interview on the cards?
Doria Ragland's life is crazy-busy right now. She's seen her daughter Meghan -- that's the Duchess of Sussex to us -- get married and she's met two queens in so many months.
Yep, not one but two female monarchs.
We're talking about Her Majesty Queen Elizabeth II and American royalty Queen Oprah.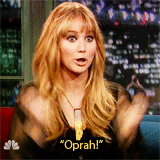 We all knew that Ragland sat down for tea with Queen Liz and her royal clan before Markle tied the knot with Prince Harry on May 19 and now details of her visit to Winfrey's home have emerged. It sounds like they had a fabulous time, by the way.
Queen O invited Ragland to spend the afternoon at her multi-million dollar California estate in the weeks leading up to her daughter's nuptials -- which Winfrey also attended. Far from being a formal affair Winfrey and Ragland's hang-out consisted of some very relaxing activities.
Winfrey asked Ragland -- a yoga instructor and social worker -- to bring along her yoga mat. We love how thoughtful Queen O is but to be honest we expect nothing less from the TV icon.
"She's great at yoga, so I said, 'Bring your yoga mat and your sneaks in case we just want to do yoga on the lawn,'" Winfrey explained to ET on the red carpet at the premiere of her new series Love Is __.
Just stop for a moment and picture Winfrey and Meghan Markel's mum saluting the sun on the enormous front lawn. We've never wanted to participate in a form of exercise so badly.
The duo rounded out their day with a bite to eat that included some sort of delightful dessert involving kumquats. Say what? Kumquats. They look -- and taste -- like tiny oranges and yes we did have to Google that.
Ragland was all about the unusual fruit and ended up leaving with a basket from Winfrey's own orchard. Any Oprah fan knows how dedicated she is to growing her own fruit and veggies. Receiving some as a gift? That's akin to being knighted, in our books anyway.
"Doria said, 'I love kumquats,' and I said, 'I have a kumquat tree! You want some kumquats?'" Winfrey explained.
This tweet is unavailable or no longer exists.
This is where the controversy started. Around the kumquats. Pretty soon the basket of golden fruit came to be seen as Winfrey bribing Ragland into giving her an exclusive interview. Remember that Ragland is pretty much the only one of Markle's relatives that hasn't sold her out to the press.
Winfrey was quick to quash these rumours on the spot.
"For all of the people who said I am getting her gifts and I'm trying to bribe her for an interview -- they were kumquats. If kumquats can get you an interview, I'm all for it!"
All jokes -- and kumquats -- aside, if Ragland does decide to speak to the media we hope she chooses Oprah. We just know in our hearts that Queen O would look after her -- she might even bring Ragland a basket of her favourite fruit.
Feature image: Getty