Miss America Strips Swimsuit Comp And People Are Pumped
The world is waving #byebyebikini.
Have you heard? The Miss America beauty pageant has given its infamous swimsuit competition the boot. Hear that? It's the sound of pageant hopefuls across the US letting out a huge sigh.
It's masses of women around the globe raising a cheer. It's space being made for all bodies of all shapes and sizes in a room that was once exclusive to a single body type.
And we love it. Why? Because it's a sign that we're one step closer to realising that beauty isn't only skin deep.
This tweet is unavailable or no longer exists.
There's long been a stigma associated with the Miss America organisation -- and beauty pageants in general. It's not hard to agree -- or at least acknowledge -- that these type of competitions place huge emphasis on the female competitors' physical appearance, often at the expense of their other qualities.
Those sky-high expectations of beauty then seep into everyday life and, before we know it, we're wondering why we don't look like Miss North Dakota in a tie-side two-piece swimsuit. (It's all about the high heels and butt make up -- apparently.)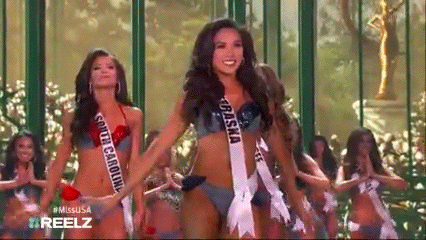 Current US president Donald Trump's near two decade ownership of the Miss USA franchise didn't do much to improve public opinion of pageants -- or himself. From reportedly bursting into backstage areas where contestants were semi-nude -- and then there's that public run-in with our very own Aussie Miss Universe Jennifer Hawkins -- Trump's behaviour was *ahem* unusual to put it mildly.
The superficial and often murky world of beauty pageants has been picked apart -- and gently mocked -- in heaps of films like Miss Congeniality, Whip It! and Drop Dead Gorgeous. So iconic.
While they did a solid job at lampooning the decades-old tradition of what is essentially getting dolled up, parading around on stage and being scored on your looks, we haven't seen major change from the organisations themselves. Until now.
Now Miss America looks to be shedding its skin -- in a manner of speaking -- by saying goodbye to the pageant's most controversial segment: the swimsuit competition. The internet is blowing up with praise for the organisation's bold move. After all, it's been a staple since Miss America was founded in 1921.
Here's just a snapshot of those who are more than happy to wave #byebyebikini.
This tweet is unavailable or no longer exists.
This tweet is unavailable or no longer exists.
This tweet is unavailable or no longer exists.
This tweet is unavailable or no longer exists.
Feature image: Warner Bros.