Cynthia Nixon Releases Exclusive Sex And The City Merch To Make Every Fan's Day
Calling all Mirandas.
Fans of Sex and the City, let's be real. Carrie, Samantha and Charlotte -- while all fabulous characters -- did hog the spotlight a bit throughout the TV series' six seasons. Now it's Miranda's time to shine.
Well it's actor and New York governor hopeful Cynthia Nixon's time to shine anyway.
On June 6 Nixon released a range of Miranda Hobbes-themed merchandise to coincide with the 20th anniversary of SATC -- and to rustle up support for her political ambitions too. Miranda... er, Cynthia tweeted, 'we should all be Mirandas who vote for Cynthia' with a link to shop the range.
This tweet is unavailable or no longer exists.
The limited-run range starts at $37 and includes t-shirts, tote bags and caps. It's chic, smart and savvy and we reckon kick-ass lawyer Miranda would approve. There's even a toddler-sized tee for those politically-minded minors among us. Cute.
Just quietly, it looks like our fave redheads like Cynthia/Miranda are also having their time in the sun -- with liberal coatings of SPF 50+ of course -- because the ginger-haired emoji is now a real thing. Hurrah!
But back to the Miranda merch. We're in safe hands as the range was designed by the very enthusiastic team behind the @everyoutfitonsatc Instagram account. These guys -- and gals -- have made it their personal quest to document each and every look from the show's 94 episode run. Now that's dedication.
Nixon announced her candidacy for governor of New York City on March 20, 2018 and while us Aussies can't have a say in the actual election we can show our support by getting our hands on some thoroughly sexy -- and Miranda-approved -- merch. Scroll down to peruse the full offering.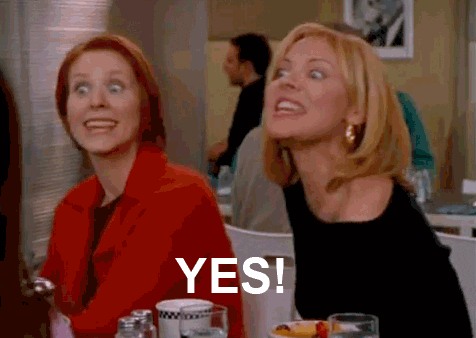 20th Anniversary White SATC Tee
$46.

20th Anniversary SATC Tote
$40
20th Anniversary Black SATC Tee
$46.
20th Anniversary SATC Hat
$50.
20th Anniversary SATC Tee - Toddler
$36
Feature image: Getty.