What To Read When You Can't Get Enough Royal Wedding
Page-turners to feed your hunger for all things Harry, Meghan et al.
The royal wedding is over. Boo. Luckily there's a whole Palace-ful -- not a genuine measurement but you get what we mean -- of books about Meghan, Harry and the rest of the royal clan for you to swoon over. Yay. Here are just seven right royal reads to keep your dreams of princes, tiaras, ballgowns and Corgis alive. And they'll look great on your coffee table. Bonus.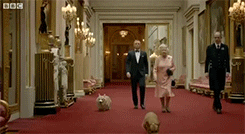 Her Majesty
Witness the Queen evolve from fresh-faced princess to proud wife, doting mother and British monarch through hundreds of beautiful photographs. Notable contributing snappers include Cecil Beaton, Lord Snowdon -- yep that's the late Princess Margaret's husband -- and Annie Leibovitz. Many shots are never-before-seen making this tome -- and it is a tome at over 350 pages and weighing 2.6 kilograms -- a must for fans of HRH and the royal family as a whole.
Her Majesty by Christopher Warwick and Reuel Golden, $90.
Meghan: A Hollywood Princess
English journalist-cum-celebrity biographer Andrew Morton has penned bestselling books about Tom Cruise, Madonna, Angelina Jolie and -- most famously -- the late Princess Diana. The latter sold millions of copies. So you know you're in good hands with Morton's latest offering, an account of the newly-minted Duchess of Sussex's journey from a Deal Or No Deal 'suitcase girl' to divorcée and now member of the royal family.
Meghan: A Hollywood Princess by Andrew Morton, $29.99.
Ma'am Darling: 99 Glimpses of Princess Margaret
Queen Elisabeth's only sibling Princess Margaret was the original rock 'n roll royal. Where her older sister was demure and dutiful Margot -- as she was know within the royal family -- was rebellious, outspoken and downright wild. Revered as the epitome of glamour and modernity in her heyday Margaret rubbed shoulders with fabulous people like John Lennon, Marlon Brando and Pablo Picasso. Her's was a life of smoking, drinking and extramarital affairs with men 17 years her junior and you know you want to read every incredible detail in this juicy biography.
Ma'am Darling: 99 Glimpses of Princess Margaret by Craig Brown, $39.99.
The Duchess: The Untold Story
Camilla Parker Bowles is -- and may forever be -- seen as the other woman who derailed one of the most high-profile couplings in history. Penny Junor's treatment of Prince Charles' second wife the Duchess of Cornwall could help to soften that view. She approaches Camilla's relationship with the future king of England as one of two star-crossed lovers who longed to be together from the beginning but could not. That their love has endured for almost 50 years -- amid intense public scrutiny at that -- is deserving of respect.
The Duchess: The Untold Story by Penny Junor, $29.99.
The Royal Family: A Year by Year Chronicle of the House of Windsor
What's not to love about a big book filled with beautiful colour images of one of the world's most famous -- and beloved -- families? Not much. And that's exactly what's on offer here. This year-by-year chronicle is re-released every few years with new images and information about the ever-growing royal brood. Expect to lose yourself in the great-quality pics and detailed history.
The Royal Family: A Year by Year Chronicle of the House of Windsor by Parragon Books, $119.
Harry & Meghan: The Royal Wedding Album
Due for release in June 2018 this is the ideal royal wedding photo album for everyone who watched Prince Harry and Meghan Markle tie the knot with a tear in their eye. We certainly did. It's the perfect souvenir of the couple's special day and not only that it lovingly recounts the prince and the actress' fairy tale romance. Sigh. We'll grab two copies thanks.
Harry & Meghan: The Royal Wedding Album by Angela Peel, $30.
Remembering Diana: A Life In Photographs
Released to coincide with the 20th anniversary of Diana's death this stunning book is a true celebration of one of the most famous -- and most loved -- women in history. Reflections from those who knew her best -- think singer Elton John and friend and biographer Tina Brown -- are the perfect accompaniment to the hundred or so beautiful and intimate photographs within. Sourced from the legendary National Geographic archives these images offer insight into the late princess' life from shy schoolgirl to doting mother and social advocate. A fitting tribute to an incredible person.
Remembering Diana: A Life In Photographs By National Geographic and Tina Brown, $49.99.
Yarn Whirled: The Royal Family
We just had to pop this one in here -- it's too cute not to. This darling book features all your favourite royals as you've never seen them before -- as adorable yarn dolls. No knitting experience is necessary but even if arts and crafts aren't your thing you'll still enjoy seeing the Queen, Prince Charles and newlyweds Harry and Meghan rendered tiny, touchable and oh-so-sweet.
Yarn Whirled: The Royal Family by Pat Olski, $36.99.
Feature image: National Geographic via Fishpond.