Chelsy Davy Was All Of Us At The Royal Wedding
Watching an ex get hitched is torture.
Chelsy Davy may have sparked a lot of memes at ex-boyfriend Prince Harry's wedding, but the truth is she was all of us who have had to pop on a dress and suck it up, acknowledging the fact that our ex-boyfriend has well and truly moved on.
Unlike all of us, of course, her ex happens to be 6th in line for the British throne, so his wedding was the biggest event in the world. With 2 billion people watching it. And everyone knowing who she was.
And if that wasn't enough, they made memes of her.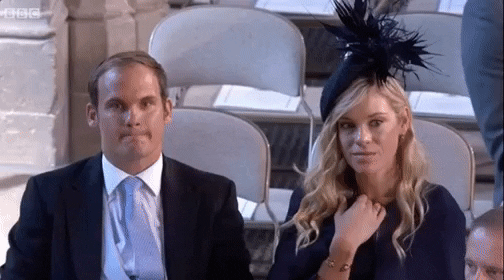 Poor woman.
But who hasn't had to deal with that first party you go to where your ex is going to be with his new partner? Or that awkward meeting in the street when you just washed your hair and popped out to get milk in your ugg boots and they look amazing and SO. IN. LOVE? Or -- if you're me -- a Christmas barbie with friends where you find your ex's ENTIRE FAMlLY and his NEW WIFE and BABY. No sorry I don't know how all that champagne vanished ...
The 32-year-old was one of two of Harry's exes at the event -- the other, Cressida Bonas -- but she was also the most serious of his former flames, having dated him on and off for several years from 2004 until around 2011, finally breaking it off once and for all because she coudn't handle how public their relationship was.
And the poor woman had to sit and be seen at his very public wedding.
To make matters worse she wasn't even invited to the second, more intimate reception, and she practically didn't even go to the wedding at all after an emotional phone call with Harry, a family friend told Vanity Fair. "It was their final call, a parting call in which they both acknowledged Harry was moving on," the source said. "Chelsy was quite emotional about it all, she was in tears and almost didn't go to the wedding. In the end, she went and promised Harry she wouldn't try and gatecrash the party."
If only she had crashed it -- at least there she could have drowned her sorrows and pashed a member of the Suits cast ... but I digress.
The relationship between Harry and Chelsy was always complicated -- real tortured love story kinda stuff. She was a rich socialite from Zimbabwe who grew up on a game reserve and went to a UK private school, and she met Harry on his gap year in Cape Town, moving to the UK to be closer to him.
The two of them dated on and off for years -- she attended several royal events with Harry including Prince Charles' 60th birthday, she met the Queen at a wedding and was also invited to his brother Prince William and Kate Middleton's wedding -- but they ultimately couldn't make it work.
Chelsy was said to be unhappy with the spotlight she found herself in, tortured by the lack of privacy that came with dating a prince.
In 2015 the Sun reported that Harry and Chelsy were trying to make a last ditch attempt at fixing their relationship … but it wasn't to be.
Royal reporter Katie Nicholl told InStyle recently, "You sort of get the feeling that neither of them were quite ever willing to completely let go of that love affair. They'd carved their names into one of the tree trunks on the family estate. It was such a love affair, it really was. Right up until 2015 they were trying to give it another chance."
Despite all that, though, they went on with their lives. Chelsy now runs her own jewellery brand Aya, and divides her time between her own jewel mine (yes, really) in Zambia, her family home in Zimbabwe and London.
And Harry, of course, moved on -- dating and now marrying Meghan Markle. And when he married her, he invited Chelsy to the ceremony.
And she went. And probably regrets it now. And we've all been there.