It's Almost Time For The Royal Wedding -- Here's Our Guide (And Wishlist) For The Event
Presenting Harry and Meghan's wedding schedule -- and what we'd really like to happen.
Harry and Meghan's big day is almost upon us and with an event this size and this full of intrigue and scandal, (amiright Thomas Markle?) the pressure is on for it to run like royal clockwork. A schedule has been released -- as you would expect -- so that everyone knows how and when the day will pan out. A few things still not clear? We've taken care of them for you. Read on.
9am: (6pm AEST)
Members of the public invited to the wedding will begin arriving at Windsor Castle now -- these are the ones who have landed an invite because they're doing great charity work or have overcome hardship. The next hardship they will have to overcome of course, how to spend all day out in the sun without even a canapé (or a loo!).
9.30 – 11am: (6.30-8pm AEST)
Actual guests (the "inside" ones) will begin to arrive by foot or by bus, entering St George's chapel by the South door to take their seats for the ceremony. This is when we will get to see the likes of David and Victoria Beckham, Elton John and David Furnish, Ellie Goulding, Serena Williams and co, who are all rumoured to be invited to the couple's big day. And the other royal family -- the Clooneys. All rise.
11.20am (8.20pm AEST)
THE ROYAL FAMILY START TO ARRIVE!!! OMIGOD!!! I am already hyperventilating over what Beatrice's hat will look like -- at past weddings, she's been partial to a fascinator that looks like a, erm, vagina.
So, fingers crossed, eh?
The royals will enter St George's Chapel via the Galilee Porch. Some will be on foot and others will arrive by car. Some by miniature pony. Oh no, that was a dream.
The groom -- you know him as Prince Harry -- and his best man -- Prince William -- will also arrive at St George's Chapel around this time, most likely by foot. They will enter the chapel via the West Steps so they can spend time greeting those gathered in the Castle precincts, including the 200 charity representatives gathered in the Horseshoe Cloister at the bottom of the steps. But no one will care because we will all be crying at how handsome Haz looks in his military uniform, and how lucky William is to be wearing a hat that covers his bald spot.
11.30am (8.30pm AEST)
Meghan and her mum Doria will leave for the ceremony -- the pair will depart the Cliveden House Hotel and embark on a carriage ride to Windsor Castle, where Doria will jump out and head into the chapel before Megz goes on to meet up with her bridesmaids and -- maybe/maybe not her dad who maybe/maybe not will walk her down the aisle. This is of course where George Clooney should step in and heroically offer to walk her himself, but obvs if her dad isn't there, Doria will the honours.
12pm (9pm AEST)
The ceremony will start and no, I've just got something in my eye. As Meghan and her *insert parent here* walk down the aisle, Harry and William will no doubt be watching on nervously and sharing a brotherly joke. Will Prince Charles cry? Will The Queen tear up too? Will Prince George get bored and start shouting rude words? Only time will tell. The happy couple will be married by the Dean of Windsor, with the Archbishop of Canterbury officiating as they make their vows. And as they say "I do", listen for the sound of 50 million hearts around the word shattering in unison. Sob.
1pm (10pm AEST)
After the ceremony ends, the newlyweds will hop into a carriage for a 25-minute ride through Windsor so that everyone can wave at them. This is also where everyone (and by "everyone" I mean me) wants them to kiss -- given that they're not going to be puckering up on Buckingham Palace's balcony a la Wills and Kate. The royal family will leave the chapel to wave them off -- another glimpse of Beatrice's vagina hat here, folks -- as well as members of the congregation, who will stand on the lawn as they drive off. Mingle, George, mingle …
1.30pm (10.30pm AEST)
The party begins! The couple's carriage will draw up to St George's Hall, where guests will be wined and dined -- this afternoon reception is for some 600 guests, and will be hosted by the Queen. One can only hope Harry makes a speech, and like every other man in the universe uses the term "my wife" for the first time to rapturous applause.
Evening
The Prince of Wales will give a private reception for the couple and 200 of their close friends and family at Frogmore House. This will provide the final glimpse of Harry and Meghan on their special day, as they leave Windsor Castle and stroll to the house (the place, incidentally, where they had their engagement photos taken) to party on. Romance, eh? Let's hope Prince Philip gets drunk and insults someone and William does some (more) dad dancing. It's a wedding after all.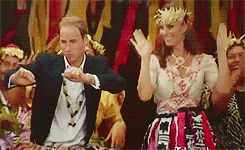 Feature Image: Getty