How To Make Your First Million - And Then A Few More. Smart Advice From The Shark Tank
Practical steps to success.
Here's the deal. You want to make a million -- you're going to have to work hard. Really hard. But you're going to have to do more than just that. You're going to have to be smart. And strategic. Also humble. And patient too.
You'll need to take advice from other professionals. Keep your ego in check. Be smart. Listen to your heart. And not just that -- you'll need to pay attention to what it tells you. It helps if lady luck is on your side. But it won't be enough without the rest.
Here's the thing you won't need to do -- come up with a brand-new killer concept or idea. That you do not have to do at all, says Shark Tank co-host and business superstar Andrew Banks.
What you have to do is the following, says Banks.
You need to spot a gap in the market and act on it. That needn't be something out of the box. It might be a business that has been in existence for years. Only you can see its faults and flaws. You can see how you can do it better, faster --maybe even for less.
This is a story all too familiar to Banks. It is his own story of course.
Born and raised in the UK he entered university to study medicine. And failed. He stumbled into acting and experienced a reasonable level of success. Young and on the search for a little adventure, he emigrated to Sydney to tread the boards with the Old Tote Theatre Company. To support his then $60 a week wage, he opened a restaurant in Woolloomooloo with a mate. The business flourished and after selling it for a decent profit, Banks and his wife Andrea returned to Europe where he took on a job in human resources.
It wasn't the profession he had ever imagined for himself. But Banks worked hard. And he paid attention. Close attention.
"I was in human resources recruiting people. I recruited 7000 people over three years. And I noticed that every recruiting company I worked with was pretty bad."
Banks and his wife returned to Australia where he continued to work in recruiting. And he found the industry no more professional than in Europe. But he found the work interesting and challenging and he was good at it. Really good at it. And he continued to pay close attention to the industry and all of its quirks and details.
"I worked with someone else. I learnt the trade," he explains.
"I became very good at it … And four years later I went out on my own. Because I worked out how to make it better. And 10 years later we had a 17 percent share of the total market in Australia."
But here's the clincher. The lesson Banks wishes we would all listen to. The thing he wants all would-be entrepreneurs to know?
"We didn't create anything new," he says.
"We just did it better. And faster. And for less."
The second part of this simple but effective recipe for business and financial success -- know your purpose. And if you can, make it noble.
"Don't just start a business thinking about making money and or selling a product," says Banks.
"Have a purpose … how will it change the world, even just a little bit? What will your business give to the world? Discover that and it will be easier for you to see exactly what you need to do to keep your business on track."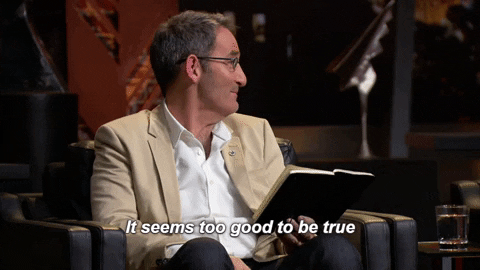 Make Your First Million Tips
Hire clever people who are good at what they do to work with you. And listen to their advice.
Be humble. Most entrepreneurs have robust egos and plenty of chutzpah -- that's part of their DNA -- but the best ones are able to see they cannot possibly know everything.
Focus on cash flow. This is quite different to sales, says Banks. "I've seen some really good businesses hit the wall because they are focused on sales at the expense of cash flow," he adds.
Shark Tank premieres tonight on TEN.