We School Meghan Markle In How To Be A Princess
Class is in session.
Prince Harry's fiancée Meghan Markle is many things. Talented, smart, gorgeous and socially conscious. But she's also the new kid on the block. And by 'new kid' we mean 'princess' and by 'block' we mean 'British royal family.' And this particular family has a host of unique and quirky customs that Meghan will be required to learn.
So how on earth is the American actress and divorcée -- who until very recently starred in a popular US TV series and lived the life of a Hollywood star -- going to fit in with one of the oldest and most-scrutinised monarchies in the world?
Fear not fair Meghan, we've done the homework for you (ie. watched The Princess Diaries on repeat) and compiled a brief guide to being a royal. Class is now in session …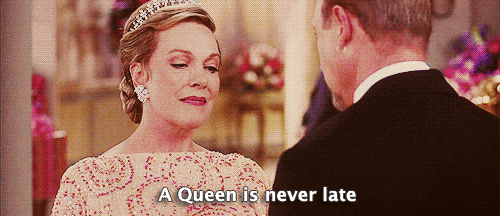 Saying hello
Greeting Her Majesty the Queen is a nerve-wracking task, even if you're about to marry her grandson. But Meghan can breathe a sigh of relief as, according to the official royal website, there are no obligatory codes of behaviour when meeting her -- or any member of the royal family at that. She doesn't get off entirely scot-free though as there are some traditional behaviours that many people like to uphold.
The Queen should be addressed as 'Your Majesty' and after that as 'Ma'am' (think 'jam' not 'farm' when pronouncing the 'a' sound). Prince Charles has referred to his mother the Queen as 'mummy,' and Harry and William affectionately call her 'granny.' We don't recommend Meghan to do either, at least not just yet.
When greeting other female members of the royal family Meghan will use 'Your Royal Highness' and subsequently 'Ma'am'. When meeting male members just swap in 'Your Royal Highness' and 'Sir'. Easy.
It's when the bowing and curtsying come into play that things get tricky to remember. In terms of HOW to do it, well, that's easy -- men are expected to give a small bow (just a quick incline of the head, no need to go the whole hog) while ladies can do a small curtsy. It's WHEN to do it that could confuse.
Meghan will have to curtsy when greeting all members of the royal family that outrank her when her hubby Harry isn't present. That means curtsying to her sister-in-law the Duchess of Cambridge.
But -- and here's the kicker -- that all changes when Meghan has Harry by her side. She takes on his rank and all those who sit below him in line to the throne -- like his cousins Beatrice and Eugenie -- will have to bow or curtsy when greeting her. And wait, there's more. When Harry leaves the room Meghan has to go back to bowing down to Bea, Eugenie et al.
Looking the part
Meghan, a high-profile actor, is no stranger to dressing up for a role, or a red carpet. On top of that, she's got a great sense of style. But boy is it unlikely that she's ever had to adhere to such a strict dress code.
Royals are expected to be well-dressed and modest yet fashionable and fresh. Their clothing choices can't be controversial. So that's a big no to Gaga's infamous meat dress or Rihanna's latest pope-inspired Met Gala get up. Not that we think that's to Meghan's personal taste anyway.
Branding must be minimal and discreet. No slogan tees or massive logos -- except of course if it's for charity. For big events like weddings and balls, women wear hats during the day, tiaras in the evening and gloves on their hands. Skirts must sit at or below the knee at all times. And then there's the tights.
Earlier in 2018 royal watchers were left aghast when Meghan was spotted on numerous occasions sans stockings while out and about with Harry on official business. That's a code red in terms of breaking royal dress protocol. Sure, she looked incredible in a floral green Self Portrait dress and black suede pumps on April 21 but the fact she was bare-legged was seen by many as a blunder.
Flesh-coloured tights are non-negotiable for female royals when wearing skirts or dresses. Meghan seems to have got the memo now though, as she's included tights in her latest ensembles. Phew.
All-black outfits are to be avoided unless of course attending a funeral or remembrance event. Meghan was perfectly on point in demure Hugo Boss when she accompanied Harry to a memorial for Stephen Lawrence in April. Now onto hair. Some say her trademark messy bun -- we're cleverly calling it 'the Meghan' -- isn't regal enough but to that we say pah! It's whimsical not scruffy, and we're all about it.
Overall it seems that Meghan is carving out her own sense of style -- a little bit rebellious but respectful of tradition -- just like her beau's late mother, Diana.
In the public eye
The pesky paparazzi was part and parcel of Meghan's old life as star of US TV series Suits, but even she wouldn't have been prepared for the public scrutiny that comes with being a royal. Every time she steps out she'll need to behave like the royalty she now is. Excellent posture is a must. Have you ever seen Duchess Kate slouch? We didn't think so. Open body language -- no crossed arms -- and making eye contact while speaking with everyone including members of the public is important.
Gifts such as flowers are to be accepted graciously -- a side note on that: all gifts belong to the Crown so the Queen can decide who keeps what. We don't think she'll mind if Meghan hangs on to a posy or two.
The Queen also has an unspoken 'no touching' rule. Our own ex-Prime Minister Paul Keating broke that one when he placed his hand on the Queen's back to guide her though a crowd in 1992, to the horror of the British press. The younger royal set -- Meghan, Harry, Will and Kate -- are super touchy-feely in contrast, and are often pictured hugging well-wishers.
Let's talk about legs. Or more specifically legs when seated. Crossing them is a no-no. Royal ladies sit with knees and ankles together, not one leg crossed over the other. Oh gosh we've been doing it wrong our whole lives.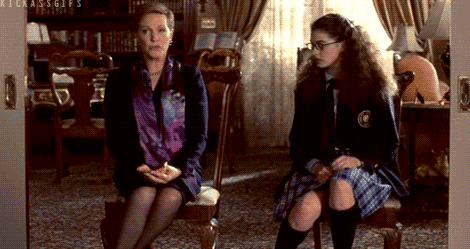 Meghan will also have to master the 'Windsor wave' but she'll have a great teacher in Her Majesty who is a pro. Waving and smiling are a royal's bread and butter while out and about but when Meghan must speak -- whether in a conversation or to an audience -- she'll have to keep things light and positive. Politics, sex and religion are off the table.
All in all Meghan looks to have quite the task ahead of her. Lucky for her she has fiancé Harry there to guide her every step of the way -- and she can learn from his (many) mistakes!
Feature image: Getty.