I'm A Celebrity 2020: Wedding Bells For Charlotte Crosby And Ryan Gallagher?
The jungle's favourite couple are taking things to the next level.
Sure, they may have only been in the jungle for three weeks but Ryan Gallagher and Charlotte Crosby have been discussing the future for a while.
On Monday night the pair discussed what's on the cards alongside Rhonda Burchmore, Miguel Maestre and Perez Hilton.
Ryan was famously married on TV during the fifth season of 'Married At First Sight Australia' in 2018 but Charlotte has yet to walk down the aisle. Chatting about marriage, the other campmates joked about #Rylotte's impending nuptials.
READ MORE
'Completely False': I'm A Celeb Producers Slam Reports Stars Have Been Having Sex In Jungle
A recent story published this week claimed that 'I'm A Celebrity Get Me Out Of Here' stars Ryan Gallagher and Charlotte Crosby have been having sex in the camp behind the long drop toilet.
"You know how everyone gets ahead of themselves? Now we're getting married," Charlotte later said after she agreed to let Rhonda sing at the ceremony.
"Now Rhonda wants to sing at the wedding, I mean I was planning on having Stormzy. It's going to be a bit of a change in temp there isn't it?" the former 'Geordie Shore' star joked.
With Rhonda on entertainment, Miguel was tasked with catering the event, leaving Charlotte a little more excited about the hypothetical marriage.
This isn't the first time the pair have discussed their future in camp. Last week Charlotte more seriously admitted she had been "searching for someone like Ryan" her whole life, adding that he has all the qualities she has been looking for in a husband.
"I can actually picture our life together," the 29-year-old admitted.
Ryan has also tried on several occasions to lock down the plans to get Charlotte to his hometown of Goulburn.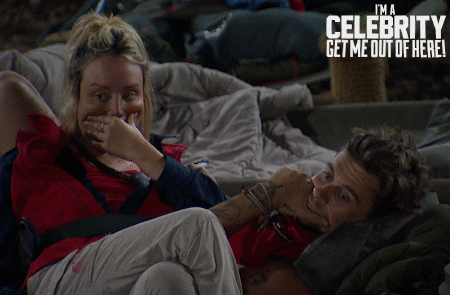 Admitting she had joked about moving to Australia with Ryan, Charlotte has complimented her jungle beau for his caring and compassionate side.
It'll be a real test when the pair are sent out into the real world, with Charlotte acknowledging that a relationship is actually the last thing she went into the jungle for.
But that hasn't stopped her from dreaming about what the future may hold.
"He's 31, I'm 30 this year," she previously said in camp. "We're both at these perfect points in our life where… I had a chat with him where he was like, 'I'm ready for children' and today I thought… so am I."
I'm A Celebrity… Get Me Out Of Here! airs Sunday to Thursday at 7.30 on 10 and 10 Play.