'Who's Thirsty!?': Fyre Festival Breakout Star Andy King Lands Deal With Evian
Event producer Andy King went viral following his interview in Netflix doco 'Fyre: The Greatest Party That Never Happened', where he revealed how far he was willing to go to get water to the doomed festival.
In case you missed what was easily the best part of the 2019 film about Billy McFarland's sh*tshow of a music festival, King revealed he was instructed to meet with a customs agent and "take one for the team" to get several truckloads of Evian water over the border.
"Billy [McFarland, Fyre founder] called and said, 'Andy, we need you to take one big thing for the team'," King said in the doc.
"'You're our wonderful gay leader, and we need you to go down. Will you s**k d**k to fix this water problem?' I literally drove home, took a shower, I drank some mouthwash. I got into my car to drive across the island to take one for the team. And I got to [the head of customs'] office, fully prepared to s**k his d**k."
Of course, viewers immediately went hog wild over the bizarre revelation, with thousands of memes flooding Twitter, Instagram and Facebook that portrayed King as some sort of folk hero for willing to go so far to attempt to save the event.
This tweet is unavailable or no longer exists.
This tweet is unavailable or no longer exists.
Fast forward to the current day -- one year on -- and our patron saint of H20 (sorry Fiji Water Girl) has again #blessed us with some amazing new content after partnering with water giant Evian in a promotion that pokes fun of his meme-lord status.
"Who's thirsty!?" he wrote in the caption in a snap of him holding a bottle of Evian water on Instagram.
"On the one year anniversary of my doc debut, @evianwater is releasing a special bottle with a new slogan… all in honour of my infamous team spirit."
As for what the new slogan is...?
"So good you'd do anything for it."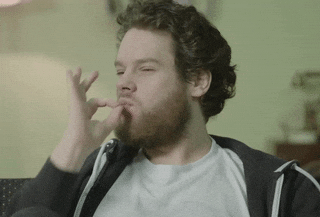 Following a whirlwind year of fame after the documentary's release, King told the Los Angeles Times:
"At the end of the day, I demonstrated something which was: You know what? Sometimes you've gotta do whatever you've gotta do to get the job done," he said.
"Did I actually end up doing it? No. Would I have done it? Maybe. And in today's culture, it's hard to find people that are gonna go that extra mile to get something done properly. I think that really resonated with so many people."
Honestly, what a legend for being such a great sport about his incredibly strange journey to virality!
Image: Instagram