I'm A Celebrity 2020: Rhonda Burchmore, Queen Of The Tucker Trials
She's the queen of the stage and no stranger to entertaining crowds, but Rhonda Burchmore's performances during trials so far have been absolutely show-stopping.
While Charlotte Crosby has faced the most trials out of any of our celebs so far, it's Rhonda who really steals the scene every time she's presented with a challenge.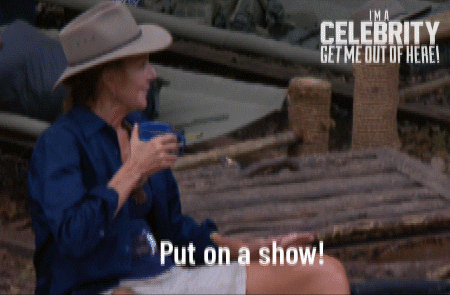 And this is really difficult for us, because while we absolutely love seeing her various alter egos appear when she heads into trials, we also hate seeing Rhonda tortured with some of the terrible trials Dr Chris and Lady Julia have cooked up for our celebs.
Still, after Wednesday's performance in Spewdio 54, Rhonda secured herself a place in the trials hall of fame -- and our hearts -- for her hilarious antics.
Things started alright for Rhonda, despite getting a face-full of what we can only describe as bright pink pirate slime (???).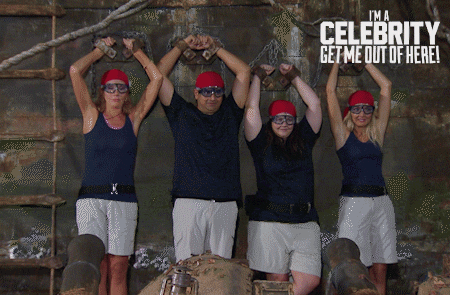 Ferociously shoving her hand into a mess of scorpions, Rhonda showed off her bravery. Which would definitely come in handy when she, Charlotte and Erin faced the 'Yucky Dip'
This is where we were introduced to Rhonda Butchmore AND Rhonda Belchmore. We also saw maybe the most incredible facial expressions ever delivered while trying to devour a trout eye.
Not satisfied with her trial performances, the cruel Australian public once again nominated Rhonda for the next trial. This time putting those world-famous legs of hers to work in the 'Hellympic Games', Rhonda was hooked up to some electrodes and zapped while she attempted a high-jump.
While she didn't manage to get the star in her category, she did fill us with an electric spirit of competition.
Still not satiated with their ongoing torture of the greatest showma'am, Rhonda was once again thrown into a terrifying trial, this time facing one of her greatest fears: treadmills. Sorry, no, we meant heights.
Again -- the physical challenge wasn't Rhonda's strong suit, even in a super suit, but she still gave it everything she had.
But in Wednesday's Spewdio 54, Rhonda once again showed off her iron stomach, showing down on some diabolical treats including a special cocktail, the Bum N' Coke.
This tweet is unavailable or no longer exists.
This tweet is unavailable or no longer exists.
A mix of flies and bugs with a dash of blended impala anus, Rhonda showed who's boss chugging it down like fine champagne.
Through the chorus of gags, burps and otherworldly roars, Rhonda, Billy and Ryan were able to score a very solid nine stars.
So, in short. Thank you Queen Rhonda for your amazing efforts in every trial. We are not worthy.