Meghan Markle Offered A Role On 'Real Housewives of Beverly Hills'
Following the shock news that Meghan Markle and Prince Harry would be stepping back from their senior roles in the Royal Family, Andy Cohen has wasted no time trying to convince Markle to become a 'Real Housewife'.
Commenting on the statement that was posted on the duo's official Instagram account, 'Watch What Happens Live' host Andy Cohen -- who is also an executive producer of 'Real Housewives' -- made quite the offer to Meghan should she require some work.
"Open invite for The Duchess to join #RHOBH !!!" he wrote in a comment that was spotted by popular Instagram account CommentsByCelebs.
Not only is Andy keen to get the Duchess on board for some juicy reality TV drama (that we would 100 per cent watch, for the records), it seems Bravo -- the network which is home to the 'Real Housewives' franchise -- is also eager (or at least their social media editor is) for Megs to join the series.
The channel's official account responded to Cohen's comment with, "Meghan Markle tagline suggestion: Beverly Hills is full of diamonds, but I'm the crown jewel."
Meanwhile, fans of both the Royal couple and the show seemed to be thrilled with the idea, with fans even suggesting their own taglines for Meghan including: "Step Aside Lisa Vanderpump. A new Queen's in Town and she's ready to fight for the crown," while another suggested, "Traded the Monarchy for Malibu".
Meghan and Harry stunned the world -- and the rest of the royals, it seems -- when they announced via social media they would be "carv[ing] out a progressive new role" where they will "step back as 'senior' members of the Royal Family and work to become financially independent while continuing to fully support Her Majesty The Queen"
They continued, "It is with your encouragement, particularly over the last few years, that we feel prepared to make this adjustment.
"We now plan to balance our time between the United Kingdom and North America, continuing to honour our duty to The Queen, the Commonwealth, and our patronages. This geographic balance will enable us to raise our son with an appreciation for the royal tradition into which he was born, while also providing our family with the space to focus on the next chapter, including the launch of our new charitable entity.
"We look forward to sharing the full details of this exciting next step in due course, as we continue to collaborate with Her Majesty The Queen, The Prince of Wales, The Duke of Cambridge and all relevant parties. Until then, please accept our deepest thanks for your continued support."
The Queen has since responded to the pair absconding from the Royal family, and it's safe to say she sounds... a tad miffed.
This tweet is unavailable or no longer exists.
"Discussions with The Duke and Duchess of Sussex are at an early stage," she wrote in a blunt statement. "We understand their desire to take a different approach, but these are complicated issues that will take time to work through."
Can you just imagine how JUICY this storyline would be on RHOBH on top of its usual shenanigans?!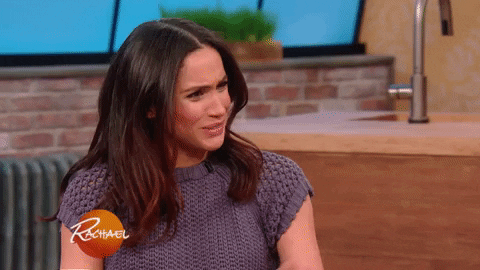 Image: Getty