'The Sister I Never Had': Erin And Myf Bond In The Jungle On 'I'm A Celebrity'
In what is fast becoming one of our favourite friendships of the season, Myf Warhurst and Erin Barnett have opened up about suffering from anxiety, as well as their blossoming gal-mance.
Chatting as they chilled out on their bunks within the campsite, the duo discussed how they were now feeling in the jungle compared to how they had originally envisioned their experience prior to their arrival in South Africa.
Asked by the 'Love Island' star how she had been finding her experience on the show so far, presenter Myf had nothing but positive things to say about her jungle journey.
"I love it, I'm really enjoying it," Myf told the 24-year-old reality star, adding that she was initially worried it "would never be comfortable".
After Erin inquired as to whether or not she suffers from anxiety, Myf suggested that cooking is a great relief for the disorder -- hence why fellow campmate Miguel Maestre is so happy all the time.
"When I cooked yesterday, I suddenly realised why Miguel is so high on life -- in here he has a real purpose," Myf mused.
As for her own method of dealing with anxiety in the jungle, Erin explained that she found that surrounding herself with "good people" eased her nerves, adding that Myf had been a great help in her dealing with anxiety.
"You don't even have to say anything and I just feel good, you have good vibes," she told the presenter, adding, "You're like the sister I've always wanted".
The feeling was mutual, with Myf returning the love by calling Erin "the younger sister I would have loved -- because I didn't have any."
Later in the Tok Tokkie, Erin elaborated on her blossoming friendship with the 'Spicks & Specks' host, saying, "I always want her around me, I feel like I'm gravitating towards her."
She continued, "I think it's because she talks back to you in a really amazing way."
She added, "I love her!"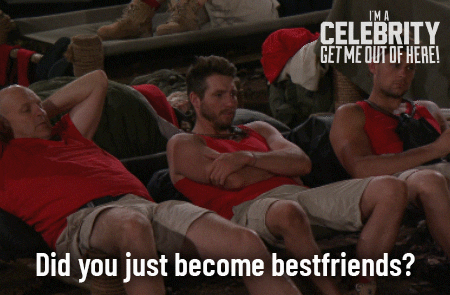 Cute, guys!!