Dreaming Of A Rosé Christmas? This Dessert Needs To Be On Your Festive Menu
If you're short on time -- and a lover of rosé -- we've found the perfect Christmas dessert recipe for you.
The Australian Women's Weekly has come up with an ingenious way to have your wine and drink it, too with a rosé and raspberry trifle that'll take you less than an hour to make.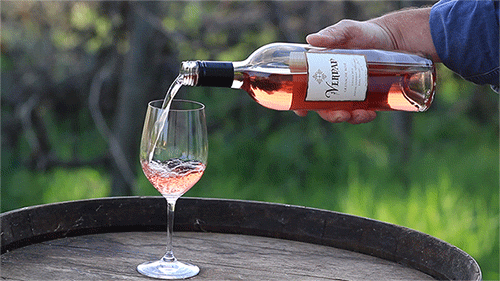 'Christmas with the Australian Women's Weekly' is airing tonight on Network 10 at 7.30 and is packed with delicious recipes, DIY decoration ideas and an exclusive interview with Megan Gale and Shaun Hampson.
But when Fran Abdallaoui, The Weekly's Food Director, stopped by to fill in 10 daily about the festive program -- there was one recipe we just had to know everything about.
"It's the most amazing trifle and it's all about the rosé jelly," she told 10 daily.
The recipe calls for an entire bottle of the pink, summery wine -- just make sure you're not buying bargain-basement plonk because it'll do your dessert no favours.
"My tip would be to buy a bottle of wine that you would drink yourself. So when you're cooking with wine, don't go cheap because it'll be nasty," she said.
Next, you heat just a little bit of the wine in a saucepan "with a little bit of sugar and then you sprinkle over the gelatine and then you melt that down and then you add the rest of the rosé".
"You don't want to heat up the wine because you'll cook off all the alcohol and that's where the flavour is," Abdallaoui told 10 daily.
"You do want that beautiful, fresh, zingy jelly," she added, saying the rosé gives the dessert a more ~grown up~ flavour quite unlike the sweeter raspberry or strawberry alternatives.
To keep things easy, you can use store-bought custard, whipped cream and sponge cake -- then all you need to do is assemble some seasonal fruits on top.
"I think, keep it simple and don't overcomplicate things," Abdallaoui said.
Sarah Harris hosts 'Christmas with The Australian Women's Weekly' on December 16 at 7.30pm -- only on 10 and WIN Network.
Main Image: 10.