Hilary Duff Dishes On What We Can Expect In The 'Lizzie McGuire' Reboot
Hilary Duff has given fans a sneak peek of what to expect in the highly-anticipated reboot of 'Lizzie McGuire' during the 5th Annual Baby Ball in Los Angeles.
After the actress revealed to fans in August that she would be returning as an all-grown-up version of Lizzie McGuire in a brand new reboot of the popular series, Duff has now spilled more info on the new project. The sequel series is set to debut on Disney+ and follows the titular character as a 30-year-old millennial trying to navigate life in New York City.
"I have said this before, but for me coming back when she's 30 and she's not in a marriage and she's not having a baby and she's not doing all the things that I have already done in my life, that story is really exciting for me," the 32-year-old actress told E! News during the event over the weekend.
READ MORE: Hilary Duff Announced Engagement With Adorable Post
READ MORE: 'I Needed A Break': Hilary Duff Got Real About The Struggles Of Breastfeeding
"I think to myself, where can we go? What are the struggles of a 30-year-old right now? What are the pressures that life throws in front of a woman who is 30 and doesn't have all the things yet?"
She added, "And for me, that's Lizzie McGuire, she had those struggles in middle school where she didn't have a place where she fits in and you know [...] always on the struggle bus, but she's also your best friend, and that's exactly what I want to target and hit home again--is being there for girls in this time of their life."
"The opportunities are really endless," Duff continued.
"Maybe at the end of the series we see her having a baby? You know, maybe it's hard for her to get pregnant? Maybe there is something bad happening on her 30th birthday in the first episode? Maybe she's going to be in her childhood bedroom in the first episode? I don't know! There's all this fun! We want to give fans what they want, but we also want to have a completely new show," she said.
Back in September, Duff's husband Matthew Koma shared sweet footage of the star's children watching the 2003 'Lizzie McGuire' film with their mum for the first time.
"Luca has never seen it either. He loved it. We all loved it," Koma said.
Duff added, "We've been sick in our household for like a month straight, it was a lazy Sunday, and we watched it. It was fun".
"I have been watching a lot of shows and I figured, I should probably watch the movie, too," she said.
"I haven't seen it since the premiere night. That was a really crazy time in my life. I had had a lot of Lizzie McGuire. I shot 65 episodes in under two years and then did the movie and I was like, I never want to see her again. And then, as I got older, I realised how much I love her, and how much that means to me, and how important of a character that was in my life."
We can't wait to see what Lizzie's been up to after all these years!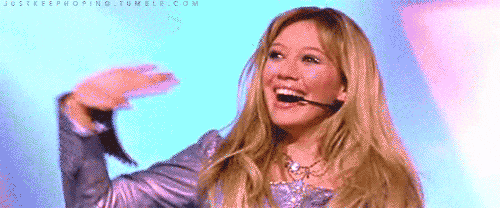 Image: Getty