'Could This Be Your Ex?': Dannii Minogue Haunted By Nightmare 'Masked Singer' Mystery
Running into your ex is never a good thing, especially when they're serenading you dressed as a gigantic pirate prawn on national television.
Luckily many of us won't have to go through that very oddly specific scenario but for 'Masked Singer Australia' judge Dannii Minogue, things are looking... complicated.
One of the first performers in the premiere of 'The Masked Singer Australia' was the prawn, a devilish lad whose clues led the panel to think he was a Brit who had a bit of a bad side.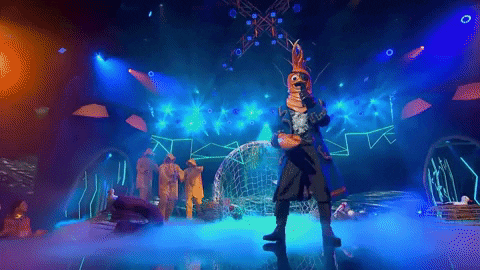 READ MORE: 'The Masked Singer Australia': All The Biggest Clues From Episode 1
READ MORE: 'I Don't Believe It!': Gretel Killeen Revealed As The First 'Masked Singer'
But it was his performance that may have given us one of the biggest clues so far.
While singing a rendition of Elvis' "Suspicious Minds", the big, bad prawn added a spin of his own, singing:
"Oh let our love survive / or dry the tears from your eyes / let's don't let a good thing die / when honey you know, yes Dannii you know I've never lied to you."
This tweet is unavailable or no longer exists.
This tweet is unavailable or no longer exists.
But Hughesy wasn't going to let Dannii off the hook saying, "There are people on this panel who have gone out with sports players, isn't there," later adding, "He said your name! I heard it! He said Dannii."
"Are you saying that this prawn could be one of your ex-boyfriends?" Osher earnestly asked the panel before Hughesy quickly responded, "Not mine..."
Despite the odd shout-out, the panel's guessed Jamie Oliver, Ed Sheeran, Brian McFadden or Danny Cipriani.
Looks like time will tell who is under the mask. Here's hoping it isn't too awkward for Dannii when we find out.
'THE MASKED SINGER AUSTRALIA' AIRS ON MONDAYS AND TUESDAYS AT 7.30 ON 10 AND WIN NETWORKS.