The Bachelor Australia 2019: Rachael Reveals What Happened With 'Plan B'
In what continues to be a deliciously juicy season of 'The Bachelor', in Wednesday night's ep we saw Bachie Matt boot another girl from the mansion before the rose ceremony.
But unlike Monique Morely before her (who could ever forget the dog c*** saga?), Rachael Arahill was sent packing by Matt Agnew after he discovered that the blonde beauty had a bit of a schoolgirl crush on one of the show's crew members.
READ MORE: 'Love Has No Gender': Rachael Spills On Relationship With Vakoo
Yep -- and as most saucy Bach dramas do, it all kicked off during the evening's cocktail party.
"I don't care much about speaking to Matt because I'm pretty keen to see Plan B," Rach nonchalantly revealed to the camera.
Speaking to Elly and Kristen at the cocktail party as they awaited Matt's arrival, Rach gushed, "He's a great guy! He's definitely my cup of tea."
Of course, it wasn't long before some delicious confrontation went down, with Mary spilling to beans to a gobsmacked Matt. Even more shocking (amazing?), though, was the random producer who got among the drama by spilling to Matt that Rachael had slipped her number to a member of the crew -- of which we can only assume is Mr. Plan B (or maybe that producer WAS Plan B? #PlotTwist).
READ MORE: 'I Was Disappointed': What You Didn't See Happen On Kristen's Date With Matt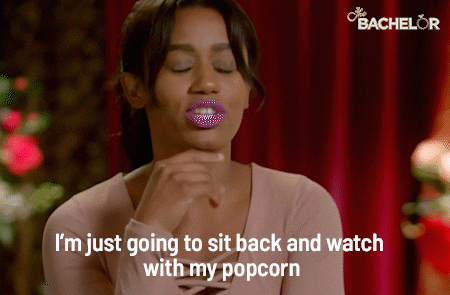 "There's a little bit more to that," the random drama-loving producer ominously told a conflicted Matt.
"This ended up in a crew member's pocket. And we've checked the number... and it's hers," he added as he handed the offending scrap of paper with Rachael's number to Matt with a dramatic flair that deserves an Oscar.
Matt then confronted Rachael, who basically just told him "It's a joke!!" and then booted her from the mansion before the rose ceremony even began. Not that Rach really cared, as we found out.
"I was pretty ready to go, I had my bags packed and everything!" she told 10 daily.
"I wasn't going to apologise for making a joke. I had my bags packed, I was about to tell him I wanted to go anyway, so I wasn't mad or anything. It just didn't pan out the way I thought it would!"
And while Rachael has no hard feelings about being booted by Matt, she revealed that she didn't realise Mary had been the one to tell him until after she had left the mansion.
"It annoyed me because Mary was the person that started the whole 'Plan B' joke," she explained.
"Before we'd go to bed we would sit in my room and all say who our 'Plan B' was, and Mary would always go on about hers being one of the cameramen. It's like, 'Who do you you think you are dobbing me in?!'"
READ MORE: 'The Bachelor' Star Abbie Responds To Rumours Matt Agnew Got Her Pregnant
The main question left on everyone's lips, however, is what happened with Mr. Plan B after she left 'The Bachelor'?
"Oh, Plan B didn't work out," Rach revealed. "It turns out he has a girlfriend and it was quite the buzzkill".
Not to worry though, 'cos it seems that Rach managed to find love after all... with a fellow Bachelor contestant!
Just another night on 'The Bachelor' amiright??
At 7.30pm on 10, 10 play and WIN Network.
Images: Network 10