The Bachelor Australia 2019: In Defence Of Abbie
Abbie has quickly become the most unpopular person in the 'Bachelor' mansion -- but is all the vitriol that's been lobbed against her really justified?
Yes, she's been a cheeky little minx in her quest to be given Matt's last rose but at the same time, there are plenty of reasons why Abbie has been asserting herself to get to the top.
The mansion was divided after Abbie dobbed on Monique for uttering that now cursed, yet iconic, phrase and she's continued to step on a few toes as she enthusiastically vies for Matt's attention and adds more roses to her victory bouquet.
READ MORE: The Bachelor's Nichole Tells All: 'I Never Had A Problem With Monique'
But why is she so incredibly likeable, even as we may sigh, "Oh, Abbie" as she does something morally questionable on a group date?
It's because all of her actions have specific reasons behind them and she's charming as hell, almost exactly like this season's 'Survivor' villain.
This tweet is unavailable or no longer exists.
Please indulge us in the court of 'Bachelor' law as we state Abbie's case!
She Takes Initiative
Abbie knows that playing it safe just doesn't work on 'The Bachelor' so you best believe she will do what she can to get closer to Matt. Staying quiet or hanging in the back of the group gives Matt no choice but to send that bachelorette home because he just doesn't know who they are. Look what happened to Brianna!
READ MORE: 'Abbie Is Such A Player': Queen Mary Dishes All After Exiting 'The Bachelor'
While the other girls mightn't have been pleased as she showed off her ~flexibility~ and mentioned sexy handcuffs with a coy grin at their circus group date, her flirting gets results, dammit!
Abbie probably has plenty of friends in the real world, she's here to get her 'Bachelor'-- which is the point of the entire series.
She's So Honest, She Can't Lie!
Even though we might have winced a little bit as Abbie kept sprinting for the number one spot in that nightmarish trait ranking challenge (the smartest, the most intelligent, the most passionate), she explained her actions best herself.
READ MORE: The Bachelor's Kristen Says Ditching Social Media 'Was The Best Thing I've Ever Done'
"I can't lie, I'm actually horrible at lying! I literally cannot lie," she professed after declaring herself the most honest, ahead of Mary and Bri.
"Putting myself in the first spot was a bit of a no-brainer. I want to get a rose, and I don't feel bad for that," she later explained.
While the other girls raised their eyebrows at her truth-telling declaration, it is definitely true that Abbie has been honest and open about her adoration of Matt.
She's not going to derive much pleasure knowing she let some girl whose name she's forgotten stand on a wooden box one time in 2019. She will be very pleased she did what she could to lockdown the (potential) love of her life.
It's Totally Fine That She's Unsure About Marriage
One of Abbie's most vocal critics has been Sogand, who is convinced that Ab isn't on 'The Bachelor' for the right reasons and just wants to win.
She even went so far as to dob Abbie in to Matt's close friend Kate, raising concerns about her rival's disinterest in marriage and kids.
Sogand explained that being someone's ball and chain "wasn't on her radar" unless she was directly in front of Matt.
To which we say: good!
Matt has been clear about wanting marriage and kids but it's still pretty full-on to be discussing weddings and offspring within days, or weeks, of meeting someone. Abbie has been extremely sincere in expressing her affection and commitment to Matt which is a big step in itself.
After their entrancing Cirque du Soleil-esque aerial silk dance pash, Abbie took a deep breath and revealed some pretty strong feelings to Matt.
"I never thought that I would feel this way but I do. I do see a future with you and I see myself falling in love with you and having a life with you beyond this."
In conclusion, we can't say what kind of tricks Abbie will get up to next few weeks as we get to the pointy end of the series, but we wholeheartedly support all of her life decisions.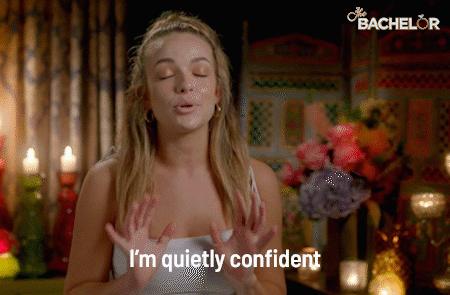 'The Bachelor' airs Wednesdays and Thursdays at 7.30pm, only on 10, 10 Play and WIN Networks.