Good Cop, Bad Cop: Bernard Curry On His 'My Life Is Murder' And 'Wentworth' Roles
We spoke to esteemed Aussie actor Bernard Curry, chatting about going from devious prison officer Jake Stewart on 'Wentworth' to his latest role as straight-laced cop Kieran Knight on 10's new series 'My Life Is Murder'.
Bernard Curry spoke to 10 daily about starring in the hugely popular prison drama, as well as his current role alongside 'Xena: Warrior Princess' star Lucy Lawless and rising star Ebony Vagulans in 10's 'My Life Is Murder'.
Starring as play-by-the-rules Detective Inspector Kieran Knight in the series, it's certainly not the first time Curry has dipped his toes into the world of crime and police dramas, with his CV boasting guest roles across 'Stingers', 'Blue Heelers', 'NCIS', ' CSI: Crime Scene Investigation' and, of course, his Logie-nominated role as prison officer Jake Stewart on 'Wentworth'.
And while his current role seems superficially similar to Wentworth's 'Jake the snake' -- both working in and dealing with the issues that come with a career in law enforcement -- according to Curry, it's the characters' moral integrities that highlight the dichotomy between the two roles.
"I think they're really different in a lot of ways, though they both have a generally positive outlook on life and don't let things get them down too much -- that's probably the main similarity," he told 10 daily.
"But Jake is a much more duplicitous character than Kieran, who goes by the book. With Kieran, everything has to be no-nonsense and no fuss -- he's very much the sort to dot his I's and cross his T's'," Curry explained, adding, "Then there's Jake, who has a far more duplicitous nature. He has the capacity to cross the line between good and bad in order to serve his own purposes".
As we witnessed in the premiere episode of 'My Life Is Murder', detective Knight's decision to involve ex-homicide detective Alexa Crowe (Lucy Lawless) in his investigations is portrayed as an unorthodox move for the cop, who is usually a stickler for following protocol.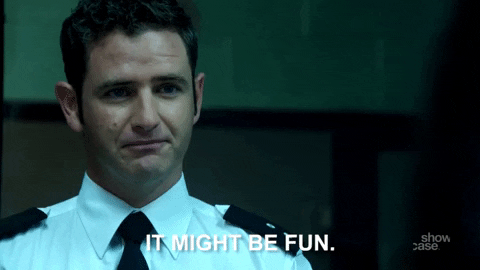 READ MORE: Lucy Lawless Is Obsessed With Murder, Just Like You And Me
Then, on the flip side, we have Officer Stewart, who in earlier seasons of 'Wentworth' was painted as a corrupt officer who dealt drugs to prisoners, and was even capable of cold-blooded murder when under pressure -- something Curry says is part of Jake's "survivalist" nature.
"Jake's a survivor -- whatever he has to do to survive, he will do. And if that means crossing the line, then so be it -- and I don't think Kieran would do that."
"In saying that, they're both wonderful characters to play, I've really enjoyed both of them. I love the fact that they are different because as an actor, that's you don't want to be typecast as the 'villainous character' or 'the good guy cop', so to do both is a dream," he revealed.
READ MORE: Killer New Mystery 'My Life Is Murder' Coming Soon To 10
In fact, Curry is so convincing in his role as the crooked corrections officer that he's often chastised by his wife, Sonya, over Jake's conniving ways.
"So I'm sitting on the couch and I'm watching Wentworth with my wife and we're holding hands, and we watched a scene where Jake did something deceitful, and she threw my hands away and goes, 'I f**king hate you! How could you do that to Vera?!'" he laughed.
He continued, "I'm like, 'I'm just doing my job over here!' and she goes, 'Nup, you're sleeping on the couch... You bastard.' So that's fine, that's good."
As for what we can expect throughout the rest of the season of 'My Life Is Murder', Curry revealed that there's certainly an unspoken, developing sexual dynamic between Kieran and Lawless' character, Alexa.
"Kieran's marriage is breaking down and he's going through a bit of a trial separation and he has two kids who he loves dearly with this woman," Curry explained. "So he finds himself in a situation where he's sort of single, Alexa's single because she's a widow -- and there's some sort of situation between them".
However, he added that viewers shouldn't jump the gun when it comes to hoping for an immediate romantic relationship between the pair, saying, "It's like Mulder and Scully -- as soon as you go and pull the trigger on that, the relationship goes to a bad way."
"They do really like each other's company and everything, so is there something deeper that we do explore as we go".
'My Life Is Murder' airs Wednesdays at 8:30 pm on 10 and 10 play.
Image: Network 10