Netflix Are Already Hinting At This 'Stranger Things' Character's Fate
SPOILERS FOR SEASON 3.
The third season of Netflix's fan-favourite series 'Stranger Things' has only been on the service for a few days but, according to the streaming giant, a record-breaking 40 million accounts have already started watching it.
On top of that, more than 18 million accounts have already finished the season, which is probably why Netflix is wasting no time hinting at the fate of a certain character.
This tweet is unavailable or no longer exists.
Obviously, if you aren't one of the 18 million spoilers are coming so go quickly binge the remaining eps and come back to read the rest of this.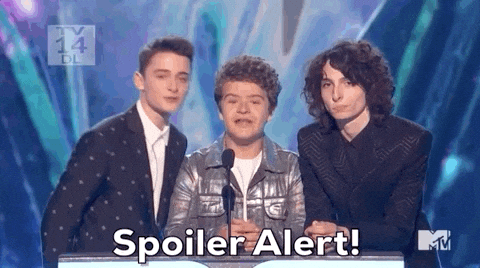 So at the end of the season, things don't look so great for Chief Hopper, played by David Harbour. After the machine that was ripping into the Upside Down exploded, killing a bunch of no-name scientists, it appeared that Hop had also been blown to bits.
But the show left a few things open-ended, for instance, when Joyce (Winona Ryder) went to look at the explosion there was no body where Hop's gooey bits should have been.
There's also the hints that -- for the entire season -- Hopper was constantly banging on about leaving doors open three inches (was it a clue?) and finally, there was that post-credit scene that hinted at the Russians having an American captive in an undisclosed jail full of Demogorgons.
READ MORE: 'Stranger Things' Season 3: The Post-Credit Scene Explained And Two Theories About What It Means
While you can read more about the post-credit scene and the theories behind what it could mean in the link above, Netflix are already teasing fans with the hope that Hop is still alive.
It's also important to remember that by the end of Season 3, Eleven had lost her powers, meaning she can't just blip into her Find My Friends mode and see where Hopper is. Annoyingly inconvenient, right?
There's also the Easter egg of the phone number of Murray Bauman (Brett Gelman), revealed in episode six, which you can actually call.
READ MORE: 'Stranger Things' Season 3 Star Maya Hawke Is The Spitting Image Of Her Famous Parents
READ MORE: Mullets And Monsters: Dacre Montgomery Dishes The Deets On 'Stranger Things 3'
The US number -- 618-625-8313 -- plays a recorded message from Bauman which says the following:
"Hi, you have reached the residence of Murray Bauman. Mom, if this is you, please hang up and call me between the hours of 5 and 6 pm as previously discussed, okay?
"If this is Joyce, Joyce, thank you for calling, I have been trying to reach you. I have an update. It's about, well, it's probably best if we speak in person. It's not good or bad, but it's something..."
Meanwhile, David Harbour has been dropping a few hints himself, updating his Instagram profile picture three times since Season 3 was released, first to a number six, then to a one and finally an eight. Yep, the first three digits of Murray's number.
So, Hopper might not be as exploded as first thought.
While Netflix has yet to officially confirm a fourth season, it's pretty clear with the record-breaking numbers they released that it's almost definitely happening. And thank God for that.
Featured image: Netflix.