'You Got Posessed By A Doll!': Freaky 'America's Got Talent' Act Stuns Judges
When magician Nicholas Wallace took to the 'America's Got Talent' stage, the judges were not expecting what was about to happen.
Before his act, Wallace introduced himself as just a real downright creepy dude.
"Where someone might see a fork, I might see someone's last meal," he explained to the cameras, never blinking so as to best to look into your soul.
Promising to bring the judges into "close contact" with the other side, Wallace arrived onstage joined by a rocking chair, an old record player and a creepy-ass doll.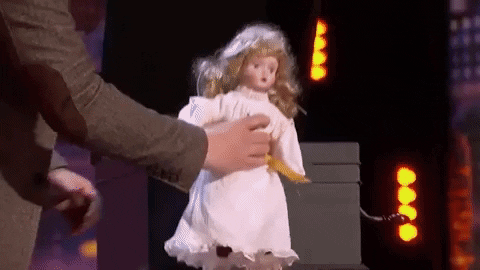 We've seen the trailers for the 'Annabelle' movies, buddy. Keep your spooky doll to yourself.
Anyway, Wallace explained that he had rescued the doll and the chair from the Quinte Hotel, two of the few items that survived a fire. The Quinte -- a hotel in Belleville Ontario -- burned to the ground both in 1906 and in 2012.
Wallace told the audience that while many thought the hotel itself was haunted, it was actually items within it that were tied to the supernatural.
READ MORE: Meet Robert, The Haunted Doll That Inspired Chucky From 'Child's Play'
READ MORE: Jenny McCarthy Thinks Her House Is Haunted
"It was an inconspicuous piece of furniture. It was an old rocking chair," he said dramatically revealing the chair. "No one paid any attention to it until an elderly guest was found dead in the chair. It was soon after that 'the happenings' began."
Telling the crowd that after the 2012 fire, the chair was salvaged and he purchased it. Then he invited one of the four judges -- Gabrielle Union -- to come and take a seat.
What followed next was what judge Simon Cowell claimed was a 'possession'.
Blindfolding Union, Wallace picked up the creepy-ass doll and would move its arms or touch it, provoking a response from Union -- who he wasn't touching.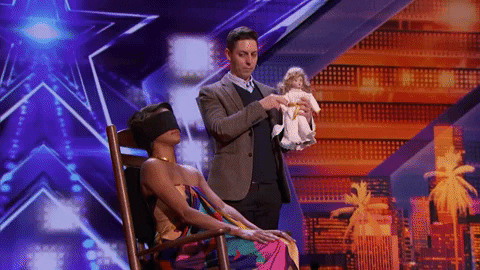 Nope nope nope nope nope.
The judges were pretty blown away / scared Wallace would unleash some ghosts on them if he didn't get through to the next round, so he received three yeses from Cowell and fellow judges Julianne Hough and Howie Mandel.
"I kinda want you to get out of here and take the chair with you," Mandel half-joked, adding, "I'm going to vote yes because I want you to be happy with me."
What do you think? Are Wallace, his chair and creepy doll up to no good? Or is this just one of the creepiest magic acts we've seen in a while?
Check out the full act here.
Featured image: NBC via YouTube.