All The 'Seinfeld' BTS Secrets You've Probably Never Heard
With a total of nine seasons and 180 episodes, 'Seinfeld' is chock-a-block with Easter eggs, cameos, and fun facts scattered throughout the series that you may not have known about.
The Actor Who Played J.Peterman Ended Up Working For J. Peterman
It's enough of a surprise finding out that the J. Peterman catalogue is a real thing and not a fictitious company.
Elaine winds up writing descriptions for things like the Himalayan Walking Boot or the Urban Sombrero, and while these items may not be for sale, the clothing company is indeed real and since 1999, actor John O'Hurley has become a part owner, helping to bail the catalogue out of financial difficulty.
The 'Real' George Costanza Accused Jerry Seinfeld Of Identity Theft
While it's always been said that the character of George was based on co-creator Larry David, an acquaintance of Jerry's claimed otherwise. Mike Costanza filed a $100 million lawsuit against the production because he believed he was the real inspiration for the character and didn't appreciate that George was "a jerk".
In the 1998 lawsuit, Costanza pointed out that he was bald, stocky, had gone to Queens College with Seinfeld and had "quirks about bathrooms and parking spaces". Coincidence?
The Superman Thing Is A Myth
It's a persistent rumour -- that some kind of Superman representation or reference makes it into every episode of the sitcom. While Jerry and Larry are huge fans of the comic, eagle-eyed fans have debunked the myth, with writer Barry Freiman counting just 46 Superman references across the 172 episodes.
The Soup Nazi Was A Real Person In NYC
It's the episode that spawned one of the most iconic 'Seinfeld' catchphrases: "No soup for you!" but the bad-tempered chef was actually based on a real-life soup dude who had banned Jerry from his eatery. Al Yeganeh -- who prefers to be called Soup Man -- ended up trading off his cranky 'Seinfeld' persona and continues to run a successful soup company.
READ MORE: Jerry Reveals Favourite 'Seinfeld' Scene With Julia Louis-Dreyfus
The Bookie Who Comes To Festivus Ended Up Winning A Pulitzer
Louis-Dreyfus informed Seinfeld during their episode of 'Comedians In Cars' episode of a fun little fact about the bookie Elaine begrudgingly brought to Festivus during the 1997 episode, 'The Strike'.
The bookie who let her know that the horse she bet on "had to be shot" was played by Tracy Letts, who went on to win the Pulitzer Prize for his play, 'August Osage County'.
Larry David Has Technically Appeared In 36 Episodes
David made his way into quite a few episodes over the years, most notably as the voice of Yankees owner George Steinbrenner and as Frank Costanza's caped lawyer.
Larry also voiced the thief who stole Jerry's car, the beachgoer who yelled for a marine biologist, the TV announcer who made fun of George eating a sundae and the newsagent who refused to accept George's $20 bill that had been defaced with red lips.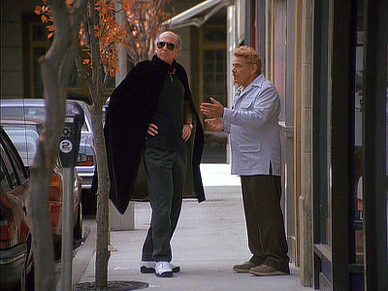 Julia Louis-Dreyfus' Real Life Sister Played A Waitress
The waitress who sneakily flipped off George was played by Lauren Bowles, who is actually Louis-Dreyfus' maternal half-sister. More recently, the sisters shared the screen on 'Veep' with Lauren playing the girlfriend of Selina Meyer's ex-husband.
READ MORE: Julia Louis-Dreyfus On Why She Went Public With Cancer Battle
There Have Been A Few Actors Who Have Appeared As Different Characters
Some actors have been recycled on 'Seinfeld' popping up seasons later as very different characters. Suzanne Snyder first played the neo-Nazi Eva in 'The Limo', and then two years later she popped up as Audrey, Jerry's girlfriend who refused to eat his apple pie. Confusing! Plus, George's ex-girlfriend Marlene (played by Tracy Kolis) appeared later as Kelly, the waitress who lied about having a boyfriend.
The Full Circle
The beginning scene of the very first episode and the final scene of the finale when the gang are in jail both featured the characters talking about buttons.
Jerry Ruined A Lot Of Takes Because He Was Constantly Laughing
Jerry is grinning from ear to ear in pretty much every scene of 'Seinfeld' and the cameras often had to stop rolling because he'd burst out laughing from all the hilarity.
"He was the one who cannot keep a straight face," Bryan Cranston (Tim Whatley) told EW. "When you watch the show now, you'll see him smiling constantly -- that's the best take they had of him not actually laughing, just smiling and trying to contain himself. It was a blast."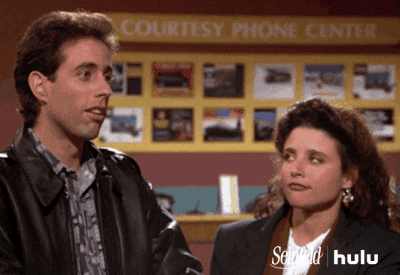 READ MORE: Jerry Seinfeld Doesn't Regret Turning Down $100 Million
In Memoriam
Sadly, a few 'Seinfeld' cast members have passed away since the show wrapped up. Actors Barney Martin (Morty Costanza), Len Lesser (Uncle Leo), Ian Abercrombie (Mr Pitt), Lloyd Bridges (Izzy Mandelbaum), Frances Bay (Jerry's Nana), Sandy Baron (Jack Klompus) and Sheree North (Babs Kramer) are no longer with us, but we'll remember their services to comedy forever.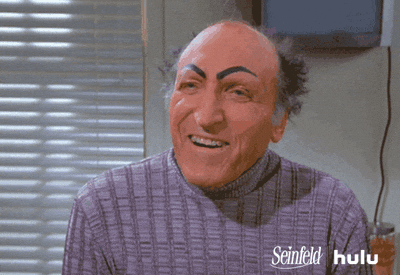 "No Hugging, No Learning"
In stark comparison to other shows of the time, Larry David instead instigated a rule for 'Seinfeld' that viewers should never learn a sentimental or moral lesson, while Jerry insisted that the characters must never learn or grow from their wrongdoings.
M&M And Lifesaver Turned Seinfeld Down
These two candy giants declined to be apart of 'Seinfeld' -- which ended up being great for Junior Mints, as the infamous episode in which a piece of the candy lands inside the body of a man during surgery is one of the show's most-loved.
A Fan In Spielberg
Director Steven Spielberg once revealed that he would become so depressed filming 1993's 'Schindler's List' that he would watch tapes of 'Seinfeld' to cheer himself up after shooting.
Seinfeld airs Monday-Thursday from 7.00pm on 10 Peach and 10Play
Main Photo: Getty