The Cast Of 'The Hills': Then And Now
With the highly-anticipated 'The Hills: New Beginnings' premiering today, we're reflecting on how much the cast has changed from the show's early days way back in 2006 to now.
Almost 10 years since the finale of 'The Hills' aired, fans are preparing to experience a flood of nostalgia today when the series' reboot, 'The Hills: New Beginnings', finally airs at midday on MTV.
And while the show's OG members Lauren Conrad, Kristen Cavallari and Lo Bosworth declined to be a part of the revamp, we can't wait to see how newbies Mischa Barton of 'The O.C.' fame, and son of rocker Tommy Lee and Pamela Anderson, Brandon Lee, will navigate their way around the friendships and fights of 'The Hills' that we've come to know and love.
If the latest trailer is anything to go by, there'll be so shortage of drama, with Audrina opening with, "I love this city, but sometimes it doesn't love me," as shots of Los Angeles are shown onscreen.
"It's hard enough going through a divorce, it's harder everyone judging and knowing intimate details that you don't want everyone to know," she later added, referencing her divorce to Corey Bohan, which was finalised last year.
We'll also see the return of our favourite sh*t-stirrer, Spencer Pratt, along with his wife Heidi and their one-and-a-half-year-old son Gunner, his sister Stephanie Pratt, as well as Brody Jenner, Jason Wahler, Whitney Port, Frankie Delgado, and Justin "Bobby" Brescia.
We can't wait!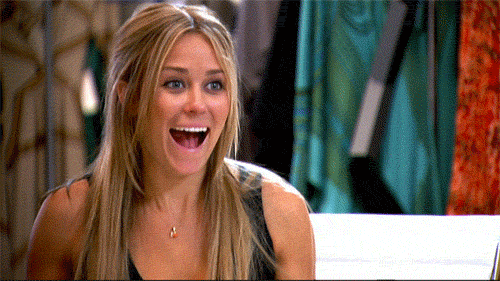 Check out below to see just how much the cast have changed over the years.
READ MORE: The Hills Cast Announce Reboot At 2018 VMAs
READ MORE: Mischa Barton Shares Behind-The-Scenes Snaps Of The Hills Revival
Lauren Conrad
Despite leading the cast of the OG series for the majority of the show's run following 'Laguna Beach', Lauren Conrad was happy to leave that part of her life behind her.
Since she exited 'The Hills' in season five, LC has been leading an insanely busy life when it comes to work and family. She married William Tell in 2014, and gave birth to the couple's first child, Liam James, in 2017. In April 2019, the former reality star revealed the exciting news that she's expecting her second bub.
She also created clothing line at Kohl's, was a New York Times bestselling author of nine books, and co-founded the non-profit marketplace 'The Little Market'.
Lo Bosworth
We're sad that we won't be seeing the return of LC's sassy sidekick, Lo Bosworth, but according to the star, shes moved on to bigger and better things -- including starting her own business, Love Wellness.
And while she's flat-out running the company, which sells everything from vitamins to products to help with period pain, Lo revealed that on top of her busy lifestyle, she simply doesn't have time for all the drama that 'The Hills' would bring.
"For me, it's just not worth it for me at this point," she told Us Weekly. "I have so many other platforms, ways I'm able to talk to people. I can spread whatever message I want to spread, and mostly at this point, it's one of positivity."
Kristin Cavallari
While other commitments meant that Kristen wasn't able to partake in the show's revival, she has since said she's got major FOMO over the crew getting back together -- though she knows it simply wasn't practical.
"If it was just me and I just had myself to look after [I would do it], but mentally and emotionally, I could not have gone back to that same place. There's just no way," she told Hollywood Life.
Along with going on to star on her own reality series on E! 'Just Cavallari', Kristen has been busy with her business, Uncommon James, hosting E!'s new series 'Paradise Hotel', and designing shoes for footwear brand Chinese Laundry.
Not only that, but the multi-talented star now lives in Nashville with husband Jay Cutler and their three children, Camden, Jaxon and Saylor, which we imagine would prove difficult given 'New Beginnings' takes place in LA.
Spencer Pratt and Heidi Montag
Who would have thought these two would be the ones to last? After the pair tied the knot back in 2009, Heidi famously altered her appearance in 2010 when she underwent 10 cosmetic procedures in one day.
Seven years later, they welcomed their first child, Gunner Stone, who was born on October 1st, 2017.
"It was 10 years of praying to get this," Pratt told PEOPLE of the show's revival, while Heidi added, "We have had this conversation for years. And it was perfect timing for us."
However, she added that her priorities have changed since becoming a mother, saying, "I was a little nervous to leave my son. I'm a mum now. I'm different. And I feel a lot more responsibility for my actions. There's more at stake."
Stephanie Pratt
In classic Pratt form, Stephanie revealed that she and big brother Spencer are once again embroiled in a bitter feud, which is set to play out on the rebooted series.
Speaking on her podcast 'Pratt Cast' in April, she had some choice words for the villainous pair, however, she didn't elaborate on what exactly ignited the fallout.
"They are the most toxic people I've ever met," she explained. "They are Bonnie and Clyde till they die. So if they say, 'The sky is black,' all of us are morons for saying, 'It's blue.' … I'm going to expose them for who they are." Juicy!
Brody Jenner
Formerly the playboy of 'The Hills' who was linked to Lauren Conrad, Kristen Cavallari, and Avril Lavigne -- to name a few -- ex-Kardashian stepbrother Brody Jenner has since settled down with Kaitlynn Carter, whom he married in Indonesia last year.
It looks like married life isn't all smooth sailing, however, with the couple seen locking horns in the latest trailer for the show.
Whitney Port
A lot has changed for Whitney since her days gossiping with LC in the Teen Vogue fashion closet. Following the OG series, she went on to move to NYC and star in her own spinoff, 'The City', where she eventually met her husband, Tim Rosenman.
"I met my husband on the show," she told E! News. "My husband was a producer on the show, so that's probably the most memorable thing that happened to me."
The pair married in 2015 and welcomed their son, Sonny Sanford Rosenman, on July 27, 2017.
Justin "Bobby" Brescia
Oh, Justin Bobby -- a man so great he needed two names.
Since the days of homeboy wearing combat boots to the beach, riding his motorcycle, playing Audrina, and beefing with LC, Brescia has kept a relatively low-profile, choosing to focus on his hairdressing business and his band, BobbyrocK.
While he was reportedly dating model and influencer Lindsay Pelas (it's unsure if the pair are still together), Spencer Pratt has alleged that the mysterious Brescia and former flame Audrina were already hooking up before the reboot even began filming!
This tweet is unavailable or no longer exists.
Legit or is Spencer once again stirring the pot? Watch this space...
Jason Wahler
Remember in season one when LC had to choose whether she would stay and be with Jason in LA or go to Paris and intern at Vogue and SHE CHOSE JASON?!? We think about that, like, a lot.
Anyway, since then, LC's former high school sweetheart racked up numerous drinking-related arrests and spent time behind bars. He battled substance abuse issues and had several stints in rehab, and founded a men's sober living home. He later married Ashley Slack in 2013 and they welcomed their first child, daughter Delilah Ray Wahler, in August 2017.
After getting sober, Jason later admitted in April 2018 that he had relapsed, saying on Instagram, "My name is Jason and I'm an alcoholic-addict. I have 39 days of sobriety after being active in my addiction for the past three + years; before that, I had four years of sobriety."
He recently revealed that he's appearing in the new series in order "to show [what] recovery looks like," he shared. "There's just so much stigma associated with that in our world today and in our culture."
Frankie Delgado
Rising to fame at Brody Jenner's wingman, Frankie Delgado went on the create a nightlife empire after the show wrapped in 2010. He later married Jennifer Acosta in 2013, and the pair have two children together.
While a lot has changed for the entire cast in 10 years, Delgado revealed that one thing that remains true in the revival is that there's no shortage of drama.
"This time around, the cameras were on our faces all day long, almost seven days a week and there were no breaks," he told Us Weekly. "It was literally, like, shoot -- it's as real as it's going to get this summer."
Image: Getty