Gogglebox Australia's Lee And Keith Are Couple Goals
They're one of our favourite couples on the couch, and Lee and Keith never failed to make us absolutely crack up.
The couple from Melbourne are a non-stop source of joy for Gogglebox fans, showing us just how to make a relationship work.
For instance, they're always sharing wisdom, like Keith's theory that you should always buy your winter clothes in summer and summer clothes in winter.
Or the times the pair will help each other out, like when Lee had a foot cramp and Dr Keith sprang into action to help her.
"Have you still got it? Have you still got a cramp?" He asked her as she tried to protest that the cramp had gone before he interfered, "It worked!" he assured her.
The pair told New Idea last September that they met at the Carlton footy club disco in 1979 when Lee was 18 and Keith was a year older.
Not one to mince her words, Lee remembered the first time she saw her husband. "I remember seeing some bloke with long curly hair leaning over the table kissing a girl," she said, "and I thought, 'What a douchebag this guy must be! Who does he think he is?'"
One of the keys to staying strong over three decades just happens to be terrible jokes, but Keith also said the secret is to "have each other's back, be trustful and respectful to each other.... and always do what Lee wants."
READ MORE: Meet The Hilarious Siblings Set To Join The Gogglebox Cast
READ MORE: New Bachelorette Angie Kent Visits Studio 10
When it comes to arguments, the golden rule is to agree with Lee.
And being married for so long, the pair basically have a language of their own -- like when Keith tried to name the "little blokes the Glopa-Glumpas" that help Willy Wonka in his chocolate factory.
Through all the thrill and spills (so many spills Lee had to cover their old couch with towels to prevent Keith from staining it too much) the pair have kept us in fits of giggles throughout.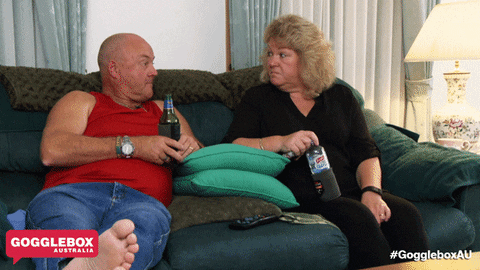 Check out more of Lee and Keith's quotable misquotes in the video above.
Gogglebox Australia airs Thursdays at 8:30pm on 10 And WIN Network.
Featured image: Network 10.