Dancing With The Stars 2019: Bindi Irwin Puts Her Dancing Shoes Back On As Guest Judge
Australia's favourite Khaki Kween will be joining our judges in what we can only imagine will be a wild week.
After the dance-off showdowns that saw the shock departure of Michelle Bridges, things are about to get a big shake-up on the dance floor.
This week, our judges Craig Revel Horwood, Tristan MacManus and Sharna Burgess will be stepping out from behind the desk and onto the dance floor.
Each judge will be working with two of our celebrity couples AND performing alongside them in a group performance. Each celeb couple will then perform an individual routine.
READ MORE: Dancing With The Stars 2019: Michelle Bridges Went Out With A Bang
Sharna will be working with Constance Hall and Samuel Johnson, Tristan will be with Sir Curtly Ambrose and Jett Kenny, and Craig will be with Jimmy Rees and Courtney Act.
Because each of them will be performing with their celebs, there needs to be one impartial judge, and who better to join the crew than Bindi Irwin?
If you didn't know, the world of Dancing with the Stars is very familiar to Bindi -- she was the winner of season 21 of the US version of the show.
Seriously, she rocked the competition.
Along with her dance partner Derek Hough, Bindi's time on the American series meant she broke two records. She briefly shared the title of youngest celebrity winner with Shawn Johnson (both were 17-years-old when they won their seasons), and she also broke the record for most perfect scores, with EIGHT of her performances receiving a 10 from all three judges.
For context: Courtney Act only scored the first single 10 of the SEASON on Monday. Meanwhile, Bindi was out there shimmying herself 10s across the board eight times before she took out the top prize!
READ MORE: Dancing With The Stars 2019: Courtney Act Scores First 10 Of The Season
For Bindi's Rumba, she and Derek recreated the iconic Dirty Dancing finale -- complete with the lift we've all wanted to attempt after a few drinks.
And one of her most heartfelt performances was when celebs had to do a dance for their most memorable year. Bindi decided on the year her dad Steve Irwin passed away.
At that time it had been nine years since Steve's passing, "I never really dwelled on that point when he did pass away so I think I'm ready to tell that story," she said.
"I can remember being little and being like, you know, the one thing I want to do is be just like dad when I grow up, and I still feel like that."
Afterwards, she shared a gorgeous throwback photo of her and Steve.
And yes, before you ask, she's already danced to the Crocodile Rock. And yes, it involved khaki.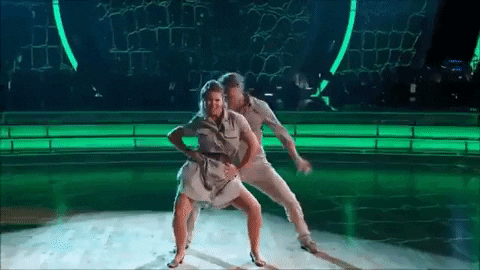 Can't wait to see Bindi back on the dance floor!