Julia Louis-Dreyfus Explained Why Leaving 'Veep' Feels Different From 'Seinfeld'
Julia Louis-Dreyfus has opened up about the last ever episode of 'Veep'.
The seventh and final season of the political satire is set to air at the end of March -- 21 years after the last episode of Seinfeld went to air.
The '90s sitcom's Elaine Benes and Veep's titular character Selina Meyer have become Louis-Dreyfus' most iconic roles in her nearly 40-year-career as an actor -- so CBS asked her whether saying goodbye felt "different" this time around.
READ MORE: The Trailer For The Final Season Of 'Veep' Is Here
And while Louis-Dreyfus replied that she's still working her way through the Veep farewell process, and hasn't had to formally say "goodbye goodbye" just yet, she said she was caught off guard by some pretty strong ~emotions~ that hit during a run-through of the final script.
"... At our final table read we had, I was actually surprised by how frankly hysterical I became," she said in the new interview.
"And maybe that's because, I don't know, I'm more cognisant of what a treasure this is just 'cause I'm older, and I've been doing this a while and I'm sort of aware of, when it's good, it's a very lucky thing, yeah," the 58-year-old added.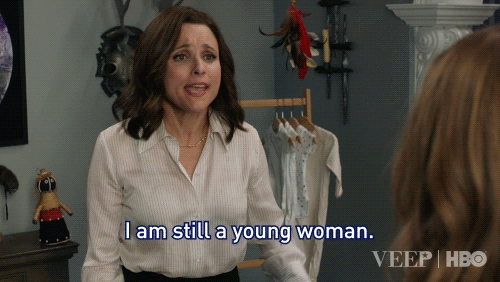 The final season of Veep was originally scheduled for 2018 -- but was pushed back a full year after Louis-Dreyfus was diagnosed with breast cancer.
Showrunner David Mandel explained to CBS that the news about her health was confirmed just a day after Veep took home five Emmys (including the statues for Outstanding Comedy Series and Outstanding Lead Actress in A Comedy Series.).
READ MORE: Jerry Reveals Favourite 'Seinfeld' Scene With Julia Louis-Dreyfus
"It was so strange because that Sunday night we won the Emmy – she won, we won," said Mandel.
"It was fun. We were at the after-party. She was there at the after-party. She knew she most likely had it. She was I think, like, 90 percent sure. We didn't know. She knew," he added.
Dreyfus announced to fans at the end of September 2017 that she had been diagnosed with breast cancer and began chemotherapy as Veep went on hiatus.
Thirteen months later, she revealed during an interview on Jimmy Kimmel Live that she was cancer free.
https://twitter.com/OfficialJLD/status/913452227104202752?ref_src=twsrc%5Etfw%7Ctwcamp%5Etweetembed%7Ctwterm%5E913452227104202752&ref_url=https%3A%2F%2Fwww.cbsnews.com%2Fnews%2Fveep-hbo-final-season-julia-louis-dreyfus%2F
READ MORE: Larry David's Daughter Cazzie Is Writing Her Own Show
Louis-Dreyfus added in the recent interview with CBS that getting the tone of a scene in Veep can be gruelling (Mandel is known for shooting dozens of different takes) but rewarding, just like eating a piece of delicious cake!
"It can be f****** awful!" she said of the creative process.
"But, once you've walked through the awful to find your way to the right moment, the right language, the right emotion, and you land it, aaah, it's like chocolate cake for days!"
Season Seven of Veep will start airing on April 2 at 7.30pm on Foxtel.
Main Image: HBO/NBC