Serial Prankster Justin Lacko Is Coming To 'Sunday Night Takeaway'
Fresh from the jungle, model Justin Lacko is stepping up to become our next 'Sunday Night Takeaway' guest announcer.
And he's got some seriously big boots to fill, following in the footsteps of the show's previous celeb emcees, like cricket legend Shane Warne, iconic boy band Hanson and The Bold And The Beautiful's Ron Moss
"Hopefully I can bring something that the others can't!" Lacko told 10 daily of his upcoming live stint in the glittery announcer's booth.
This Sunday's extravaganza features Lacko reuniting with his I'm A Celebrity fam -- Dr Chris Brown and Julia Morris -- in the brand new variety show that has, so far included proposals, prizes, pure emotion and PRANKS.
Lacko revealed that this week, poor old Osher Gunsberg is the celebrity victim of an extremely elaborate hidden camera caper.
READ MORE: Anna Heinrich And Tim Robards Are Chris And Julia's Latest Victims
"His partner Audrey has teamed up with Chris and Julia to try and convince him that he accidentally brought in contraband from Fiji," he laughed.
"Let's just say a lot of production went into this prank," he explained of the stunt that involved dozens of hidden cameras, several Hazmat suits and quite a few rolls of biohazard tape to block off Osher's entire street.
This tweet is unavailable or no longer exists.
The sketch is right up Lacko's alley because he'll apparently take any opportunity to orchestrate scenarios that'll weird his friends out.
"I'm more of a prankster, I'm the one that pulls the pranks. I love to scare people, in a good way!" he told 10 daily.
Lacko's favourite way to stitch up his mates is to invite them over for a ~gourmet~ meal and then surprise them with a few dirty old pizzas he's prepared earlier.
"I might bring home a pizza that's a bit off, and then people think that I'm actually serving them rubbish," he laughed. "And then, I end up pulling out a big meal where we're not even eating takeaway, we're eating like delicious roast lamb," he said.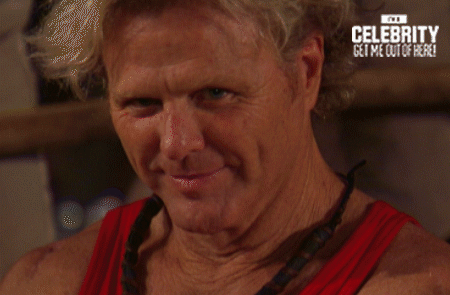 Which was no such luxury when Lacko was in the South African jungle for I'm A Celeb, chowing down on delicacies like scorpions, cockroaches and bull testicles, yum!
"I didn't realise that I would lose 10 kilos in there," Lacko said of the gruelling experience. "And even when we had the weigh-in, I was like, 'I haven't lost that much weight.'
"But then you get out and see how much you've lost in the mirror, when you're about to have a hot shower for the first time," he said.
After his appearance on Takeaway this week, the I'm A Celeb beauty said he's going to get back to his roots and begin studying acting again.
"There's only so long I can run with the whole, 'How good looking am I?, How amazing do I look?' vibe until people think, 'Okay this is boring and not funny anymore, move on mate,'" he said.
READ MORE: '90s Crushes Hanson Joined Julia And Chris On 'Sunday Night Takeaway'
Lacko said he's looking forward to treading the boards again, having first studied theatre in Melbourne when he finished high school.
"But I kind of just got busy with travelling overseas and working with my modelling over there, it pulled me away. And now I'm trying to make my way back in and have a bit of fun with it," he added.
"I would love to be on Neighbours, but we'll just have to see!"
Main Image: Network Ten.