James Corden Pranks David Beckham With Hilariously Bad Fake Statue
David Beckham was James Corden's latest victim on 'The Late, Late Show'.
Teaming up with LA Galaxy, Corden and his team of actors brought Becks to the unveiling of a statue in his honour -- a statue that definitely gave Cristiano Ronaldo's a run for its money.
In a clip released on Monday's The Late Late Show, the former sports star was visibly shook by his statue, which featured a huge chin, crossed-eyes, and a behind that could put Kim Kardashian to shame.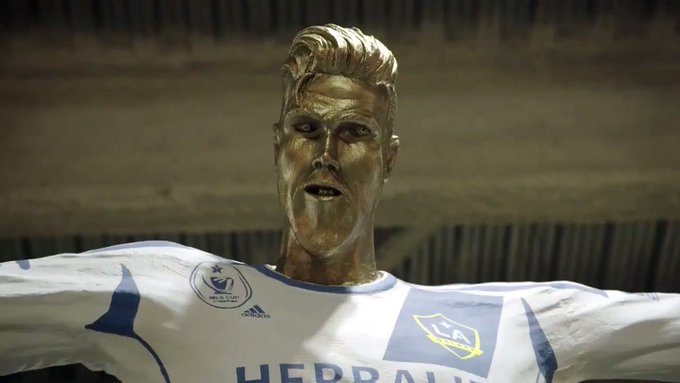 Trying to remain calm, Becks branded the piece as "embarrassing" before asking the film crew to turn off the cameras -- all while Corden was laughing hysterically behind-the-scenes.
"How can you change this in such a short amount of time?" David asked comedian Maz Jobrani -- who was imitating real sculptor Omri Amrany. "My parents and wife are coming over."
READ MORE: James Corden, Emily Blunt And Lin-Manuel Miranda Raced Through 22 Musicals In 12 Minutes
"Look at my bum; it definitely doesn't look like that," the former England captain remarked at one point, adding: "It doesn't really look anything like me, though; look at my eyes."
"I don't want to offend you in any way, but this is a big thing for me. It's embarrassing," he added.
READ MORE: James Corden Celebrates Christmas With Star-Studded Carpool Karaoke
Meanwhile, LA Galaxy president Chris Klein played along with the entire prank, insisting to the 43-year-old he thought the statue looked "great."
Soon after, the questionable sculpture met its end thanks to a "forklift accident" -- with Beckham commenting, "you've probably done me a favour there," before an ecstatic Corden burst out to reveal that the entire thing was a stitch-up.
Luckily, a really, really relieved Becks had a good laugh over the whole sitch.
Image: CBS