Maisie Williams Said Filming The Final 'Game Of Thrones' Battle Nearly Broke Her
'Game of Thrones' star Maisie Williams has opened up about the show's gruelling final battle scene.
Williams has played the fearless Arya Stark since the show's premiere in 2011, but has somehow managed to avoid some of the most epic Game of Thrones battles.
And honestly, it sounds like she's very lucky she missed out until recently because they sound exhausting.
Final season director Miguel Sapochnik warned Williams a full year before filming the scene that she should probably start training immediately because it was "going to be really hard", EW reports.
And Maisie replied, "Yeah, yeah, yeah" in the sort of casual way you might lie to yourself about going to the gym next week.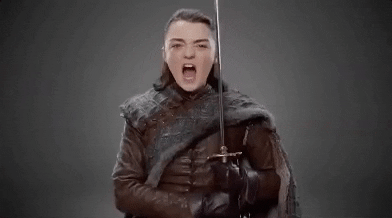 "But nothing can prepare you for how physically draining it is," Williams told EW. "It's night after night, and again and again, and it just doesn't stop."
"You can't get sick, and you have to look out for yourself because there's so much to do that nobody else can do… there are moments you're just broken as a human and just want to cry."
And she's not the only GoT actor that was transformed into a physical and emotional husk of a human being following the punishing shoot.
READ MORE: Sophie Turner Reveals Heartwarming 'Game Of Thrones' Wrap Gift
READ MORE: The First Sneak Peek Of 'Game Of Thrones' Is Here
"It was the most unpleasant experience I've had on Thrones," said Iain Glen, who plays Ser Jorah Mormont in the series.
"A real test, really miserable. You get to sleep at seven in the morning and when you wake in the midday you're still so spent you can't really do anything, and then you're back. You have no life outside it. You have an absolute f***ked bunch of actors."
Plus, the crew had to deal with sneaky paparazzi helicopters trying to snap the set from above as they filmed in Northern Ireland last year.
Some food for thought when we're all enjoying the new season from the comfort of our couches on April 15.
Main Image: HBO