I'm A Celebrity 2019: Yvie Jones Was "Obsessed With Leaving" The Jungle
Despite coming second this season, Yvie revealed for the first few weeks she had to fight to keep herself from uttering "get me out of here".
"There were a good two weeks of wanting to leave," Yvie told 10 daily just moments after she left the jungle.
"I just became obsessed with leaving and how I was going to do it."
Admitting that, for a period, she receded in an attempt to quietly fall off people's radar, "if I became really quiet they wouldn't show me and I'd just get voted off," she said.
"I just kept waiting to be eliminated... I actually welcomed it."
There was a moment where Yvie was at a breaking point, convincing herself she was ready to leave she began to think, "What would Jennifer Howard do?"
"She's the woman that started the charity I nominated," Yvie said.
Her chosen charity, Safe Pets Safe Families offers services to those facing difficult circumstances, domestic violence or disadvantage, fostering pets until their owners are back on their feet.
"I thought who the f**k do I think I am?" Yvie said.
"This is an opportunity of a lifetime."
The second wave of encouragement to stick it out came when the letters from home arrived.
"The letter from my flatmate, it was the shorter of the two and less emotional," the former Gogglebox star said.
"There was something in it that kept standing out to me, it was 'stay strong and go hard'. That's all I needed."
READ MORE: I'm A Celebrity 2019: Yvie Jones Breaks Down In Tears Over The Death Of Her Mum
From there it was like her eyes had been opened to a whole new experience.
"It became easy," she said before adding, "not easy -- easier."
"I thought to myself I can do this, then I felt like Forrest Gump when the leg braces came off and the running started."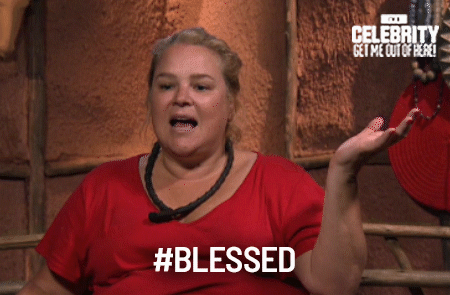 Still, there were aspects of camp life Yvie said she never got adjusted to -- like having people listening to every single thing that happened in camp.
"So... I am sorry about all the farting," she said.
"So much farting."
But despite the farting and the self-doubt, Yvie became one of the most loved celebs of the year. Her incredible speech during the weigh-ins was celebrated across the country, and her humour and heart won audiences over with every episode.
READ MORE: I'm A Celebrity 2019: Yvie Jones Takes An Emotional Stand At Weigh-In
"I feel like people finally got to see who I really am and what I stand for," she said.
"I just feel so fortunate. I can't stop using the word 'fortunate'."
Despite coming second this year after gossip guru Richard Reid, Yvie was beaming.
"I just feel really lucky to have been given this opportunity, that I've even gotten this far."
"I feel so loved, supported and embraced," she said.
"That I'm worthy to be listened to and watched in any capacity. That complete strangers want to know who I am is just incredible."
"I think if I have affected just one person, I'm happy. So, I just feel loved."