I'm A Celebrity 2019: Dermott Brereton's Time In The Jungle Comes To An End
The AFL legend is the next celeb to farewell the camp.
Dermott -- or Uncle Derm as he was fondly referred to in camp -- was the next celeb to pack his things and head back to civilisation.
His time in the jungle could basically be split between being lusted over by some of the others in camp, and terrorising his Hawthorn teammate Shane Crawford in a never-ending battle of escalating pranks.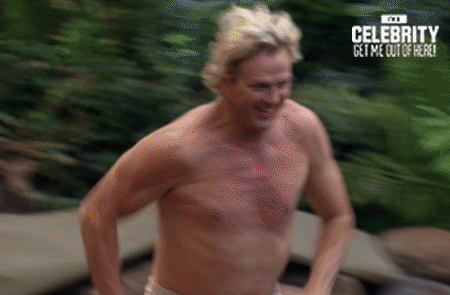 Dermott the DILF, as Angie kindly nicknamed him, was constantly having a laugh -- even when he was attempting to down a bull's testicle during the Meal of Fortune trial.
Possibly one of the most side-splitting trials of the season, Dermott and Shane were joined by Justin Lacko and Sam Dastyari and were forced to devour a menu of delights like scorpions, clotted cow's blood and -- of course -- balls.
READ MORE: I'm A Celebrity 2019: Gagging, Giggling And Huge Testicles: Celebs In Hysterics During Brutal Tucker Trial
Always a team player, watching Shane wretch and gag on the various culinary delights brought Dermott to tears… Of laughter.
But it wasn't all smiles for Dermott, who also opened up throughout his time in the camp, from discussing being a single parent to the incredible, heartbreaking story of his close call with the 2002 Bali bombings, Dermott stunned campers with his life experiences.
READ MORE: I'm A Celebrity 2019: Dermott Brereton's Heartbreaking Close Call With Bali Bombings
There were also a few salacious stories including his encounter with romance novelist Jackie Collins, to the dinner he shared with Pamela Anderson and I'm A Celeb alum, Shane Warne.
While his time in the jungle ha come to an end, Dermott's presence will surely be missed by the other celebs… Especially his penchant for nudie runs at the waterfall.
I'm A Celebrity… Get Me Out Of Here! airs Sunday to Thursday at 7.30 on 10 and 10 Play. I'm A Celebrity Saturday Schoolies airs Saturdays at 7 on 10 and 10 Play.