Chelsea Peretti Said Leaving 'Brooklyn Nine-Nine' Wasn't All Her Decision
The human form of the 100 emoji -- Gina Linetti -- farewelled New York's 99th precinct this week.
But according to comedian Chelsea Peretti, who immortalised the cop comedy's most loved character, the exit wasn't exactly on her terms.
In a new interview, Peretti told TV Line that her so-called 'Linexit' from Brooklyn Nine-Nine "wasn't fully just my decision".
"It's hard to get into the weeds of what exactly transpired and how it all shook out, but it kind of came together to be this timing that presented itself," Peretti explained.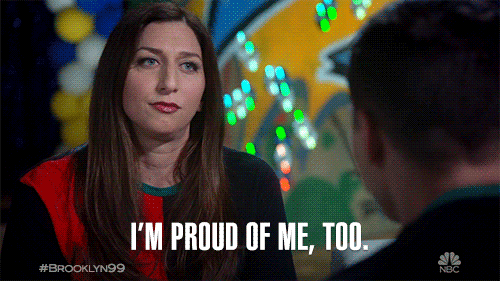 "So I kind of knew that it was going to be happening for a while… [and was] holding on to this feeling of, like, 'I'm going away from this family' in my head," she added.
Which seems extremely cryptic but sounds like the Brooklyn Nine-Nine producers have had a plan all along for how Gina's story arc would be wrapped up -- and that it perhaps coincided with Peretti's own need to move on to other projects.
READ MORE: 99 Of The Best Brooklyn Nine-Nine Quotes So Far
READ MORE: Brooklyn Nine-Nine Got Re-Edited As 'Law & Order' And It's Brilliant
The farewell episode was broken into four 'movements' where the NYPD admin assistant gifted her colleagues with a "signature Gina moment" to remember her by.
Peretti said she sat down with executive producer Dan Goor to think up some bonkers ways they could farewell the iconic fan favourite.
"But somehow an 80-page chess game wound up in the script. [Laughs] So he definitely asked me, but that doesn't necessarily mean that's what I said," said Peretti.
The comedian said her dream storyline was for Gina and Captain Holt (Andre Braugher) to take part in a secret spa day together.
"I was pitching a spa day that me and Holt have in his office and nobody knows about it… We shut the blinds and just candidly talk about people and read magazines," she said of her ideal script.
And while we didn't get to see that gorgeous scene take place, fans were pretty overcome with emotion after the episode aired in the US with the hashtag #ThankYouChelsea trending on Twitter.
This tweet is unavailable or no longer exists.
Peretti will reportedly be back for a brief cameo on Brooklyn Nine-Nine later in the season, if you weren't prepared just yet to fully say goodbye.
Nine-nine!
Main Image: NBC via Getty.